Amazing Ride for Alzheimer's in OK
Crossed into Oklahoma on Saturday afternoon. This monument marker was about 25 feet off the highway. I nosed my front bike wheel through the dry grass and high-stepped it to the sign. I'm not sure how much longer my luck will hold out that I don't eventually run into a rattlesnake.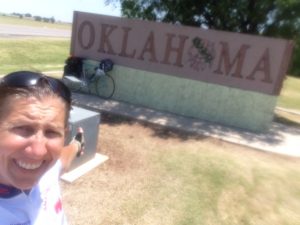 Read more about this fundraising trek to provide Alzheimer's programs at Cedar Community on Judy Steffes' blog: http://imthebikewriter.blogspot.com/
If you'd like to send a contribution to the Amazing Ride for Alzheimers, click HERE.