April 25, 2019 – West Bend, WI – Every building has a story.  Sometimes the story is simple and sweet, like a dream house shared by a couple for over 60 years of marriage.  Other times, the story takes a tragic turn, like the fire at Notre-Dame.
If you have driven around  Cedarburg the last few years, you have witnessed part of the comeback story for the building located at N144 W6050 Pioneer Road.  Jim Otten, owner of Kettle Moraine Appliance, acquired the site of a former biodegradable plant pot manufacturing facility, vacant for more than five years.  It's now home to Wisconsin's largest appliance show room, measuring over 71,000 square feet.
When the property was initially purchased, it was in need of major cleaning and renovation.  The prior manufacturing facility had endured several fires and was eventually closed down by the fire department because of code violations and safety issues.  Through much work, vision and dedication, the facility was ready for architectural design in 2018.
The showroom, the most recent of many projects designed by American Companies for Kettle Moraine Appliance, includes a predominantly glass front facade which also prominently displays their logo.  Adam Hertel, the architect designing the project, worked with Otten to bring his vision to reality.  "It was a pleasure dealing with American from my initial consultation until the very end," said Otten.  "Adam was always Johnny-on-the-spot whenever we had any issues or concerns."
Come check out the showroom at the grand opening, May 15-19.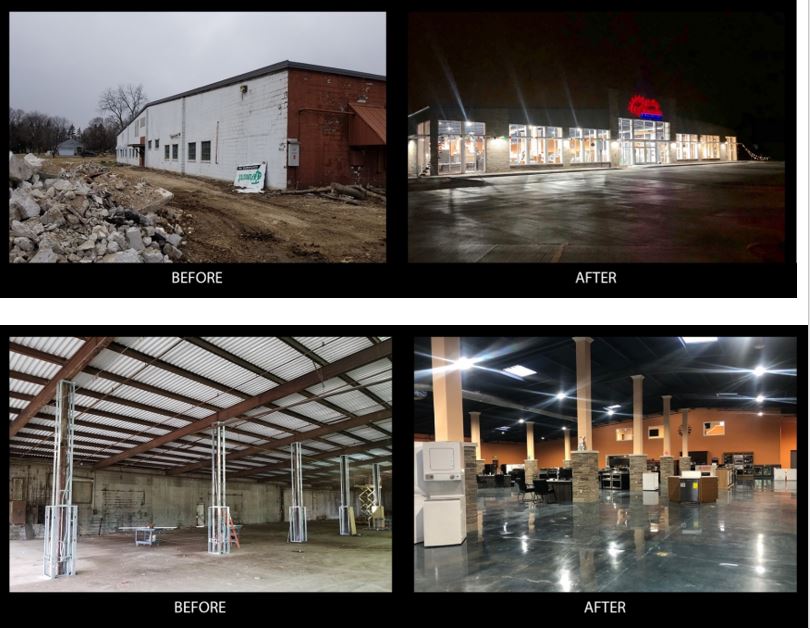 Minooka TownePlace Suites – Opening Hotel of the Year
This month, at the Marriott Conference in Chicago, the TownePlace Suites in Minooka was awarded the "Opening Hotel of the Year."  The hotel, which was designed and built by American Companies of West Bend, opened July 12, 2018.

About American Companies
 Together, American Companies are a full-service Commercial Design l Build l Develop l Real Estate firm which includes American Construction Services (ACS), American Architectural Group (AAG) and American Commercial Real Estate (ACRE).  Since 1980, ACS and AAG have built a solid reputation through their expertise in construction management, architectural design and structural engineering.  ACRE was added in 2018 to round out their portfolio by offering property sales, leasing, management and investment services.
American Companies are based in West Bend, WI and serves the northern Midwest states.  They specialize in commercial and industrial buildings including hospitality, medical, retail and multi-family facilities.
At American Companies, "Our job is to allow you to do yours."