September 14, 2023 – Washington Co., WI — American Companies is scheduled to
complete the Janesville TRU by Hilton by the end of this year. The building is
progressing with all four floors being worked on at one time by numerous sub-contractors.
American Construction Services understands the finesse of vetting and coordinating
multiple sub-contractors to work closely together with intertwining deadlines. It is a key
factor in meeting construction deadlines, that American Construction Services prides
itself on.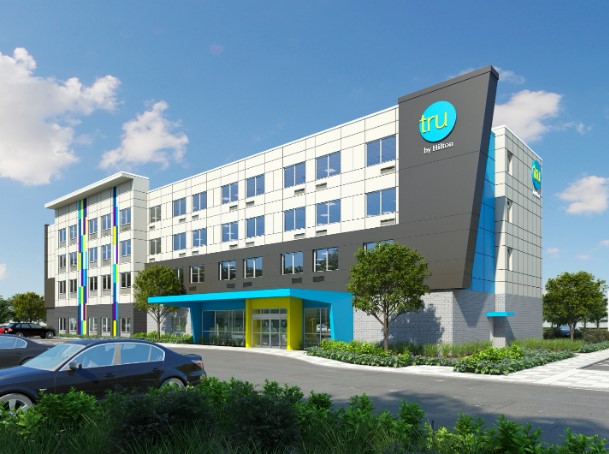 The TRU brand of hotel by Hilton is the first of its kind that American Companies have
taken on and are succeeding in designing & building the hotel. The TRU hotel will be the highlight of the community, offering travelers:
– 90 Guest Rooms
– Breakfast Island & Coffee Station
– Swimming Pool
– Outdoor Patio
– Pet-Friendly Accommodations
– Fitness Center
"Creativity, flexibility, and communication are critical qualities our team focuses on to ensure a successful project for our clients. TRU by Hilton in Janesville is a prime example of the wide range of expertise we have on staff. Congratulations to our valued partner, Kinseth Hospitality Companies, on the TRU by Hilton in Janesville nearing completion by the end of this year." – Kraig Sadownikow
It takes hard work and dedication to build a hotel, from the ground up. Together,
American Architectural Group & American Construction Services have the experience
and expertise to make it happen. Kinseth Hospitality Companies has a great brand of
hospitality service that they bring to each of their hotels, and we have faith that the TRU
by Hilton in Janesville is no exception.
American Companies works for a wide range of clientele, from medical to hospitality,
and from manufacturing to retail. For any client, American Companies' experts
seamlessly guide them through the design-build process. If your business is
expanding, but you don't know where to start, visit our American Companies website at
www.TeamACS.net and contact us at 262.334.3811 to see how we can help your
business grow.