August 7, 2019 – There's a touch of West Bend in Historic downtown Janesville as the new four story, 87 suite TownePlace Suites opened in July  2019.

TownePlace Suites is an extended-stay, Marriott franchise hotel with fully equipped kitchens, a 660-square-foot meeting room, an indoor pool and fitness center.
This Marriott franchise hotel, 2706 Pontiac Place, is a joint venture between retail developer Galway Companies, hospitality management company Kinseth Hospitality ("Kinseth") and American Companies ("American"), an architectural design and general contractor firm.
This is the ninth hotel Kinseth and American have partnered together on in the Midwest, and an Avid Hotel currently under construction in Monona, WI (also a partnership between Galway, Kinseth and American) being the tenth.  More hotel starts are on the horizon in 2020.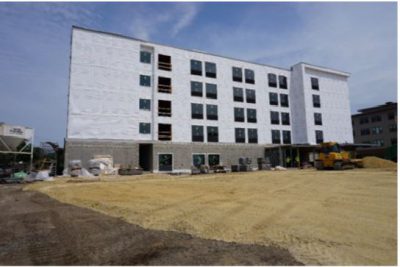 "Our relationship with American Companies is an easy one," said Bruce Kinseth, owner of Kinseth Hospitality. "We get an update every week showing the progress of the project which also includes any issues they encountered and whether we're still on schedule.  There are also very few surprises; with all of the projects we've worked together, we've never seen a single change order."
Avid Hotel is an IHG's newest brand franchise, located at 900 W Broadway on the eastern shore of Lake Monona and the Yahara River, just minutes away from downtown Madison, the University of Wisconsin Madison and Madison College.
About American Companies
Together, American Companies are a full-service Commercial Design / Build / Develop / Real Estate firm which includes American Construction Services (ACS), American Architectural Group (AAG) and American Commercial Real Estate (ACRE). Since 1980, ACS and AAG have built a solid reputation through their expertise in construction management, architectural design and structural engineering. ACRE was added in 2018 to round out their portfolio by offering property sales, leasing management and investment services.
American Companies are based in West Bend, WI and serves the northern Midwest states. They specialize in commercial and industrial buildings including hospitality, medical, retail and multi-family facilities.
At American Companies, "Our job is to allow you to do yours."