May 15, 2019 – West Bend, WI – This summer the Museum of Wisconsin Art is all about vacationing in Wisconsin.  Starting Saturday, June 1,  MOWA will host 160 years of photography of the Wisconsin Dells in an unprecedented exhibition, Among the Wonders of the Dells.
From remote natural wonder to "Waterpark Capital of the World," Wisconsin Dells has reigned supreme as the state's premier tourist destination for nearly 160 years.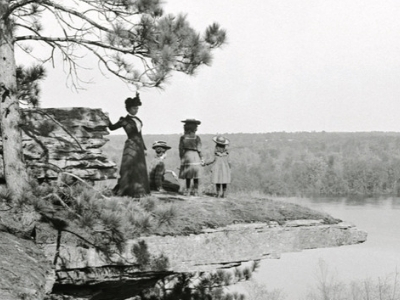 Among the Wonders of the Dells presents more than 100 photographs from eight artists recounting the fascinating history and transformation of Wisconsin Dells.
The earliest surviving photographs from the Dells date back to the 1860s. Taken by an eccentric river captain named Leroy Gates, these cartes de visite immortalize the picturesque pioneers who resided in Kilbourn City—renamed Wisconsin Dells in 1931—and surrounding towns. In 1865, Gates sold his equipment to a young man who recently returned from the Civil War, whose aspirations of being a carpenter had come to an abrupt end after a hand-mangling rifle misfire. Despite this inauspicious beginning, Henry Hamilton "H. H." Bennett would go on to create one of the most treasured bodies of nineteenth-century photography of the Dells. Along the way, he made the place famous.
Since the townsfolk of Kilbourn City had limited interest in photography and scant funds to support it, Bennett set his sights on introducing the new American tourist to the wonders of the Dells. His stunning stereoviews of picturesque rock formations and the local Ho-Chunk community were distributed along the Chicago, Milwaukee, and St. Paul Railroad, luring thousands of summer visitors from around the nation and putting Wisconsin Dells on the map.
Among the Wonders of the Dells opening party will be on Saturday, June 1, 2019 2 p.m. – 5 p.m. The exhibition will be on view through September 8, 2019.
Click HERE to read more at MOWA.
Photo courtesy H.H. Bennett, Visor Ledge, Gelatin silver printing-out paper print, 1900, Wisconsin Historical Society, WHS-7282