Allenton, WI – The Allenton Annual Picnic wraps up today, Sunday, August 18.
Sunday it's the annual Allenton Parade starting at 10:30 a.m.
The wrap up to this annual family-fun weekend will start with a huge parade on Sunday sponsored by area businesses. Catch some great bands and Whistle on Wheels Calliope before the parade steps off.
Below is a look at the 2017 Allenton Parade.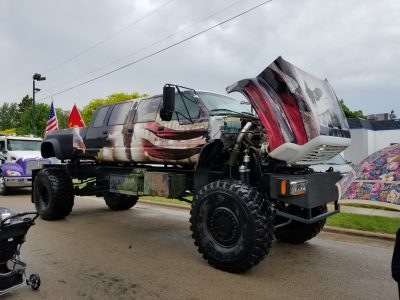 There are six bands that will perform during the parade and at the Concert in the Park following the parade.  A new entry for the parade this year will be Whistles on Wheels Calliope.  Whistles on Wheels will be providing music along the parade route prior to the parade as well in the parade.
Following the parade Let's Get Roasted Pig Roast will be serving starting at 12 noon.  Dodge County fire departments will be competing for trophies and money during the water fight tournament, starting at 2:30 pm.
Of course all during the weekend will be great hamburgers, Gehring's brats, cheese curds and much more along with refreshments.  The entire weekend of fun and entertainment will occur at the Allenton's Veterans Park on First Street, one block south of WI-33.