One month until CHASE Bank closes branch on W. Washington Street
July 1, 2019 – West Bend, WI – One more month until the Chase Bank branch at 801 W. Washington Street in West Bend closes.
A letter dated May 3, 2019 was received by customers notifying them the CHASE branch at 801 W. Washington Street in West Bend would be closing as of August 1, 2019.
CHASE also has a branch at 600 W. Paradise Drive.
The interesting thing about the CHASE location on Highway 33 is that it is the branch with the safe deposit boxes.
Over the past few months similar changes have occurred across Washington County. In September 2018 National Exchange Bank, 2412 W. Washington Street, in West Bend closed.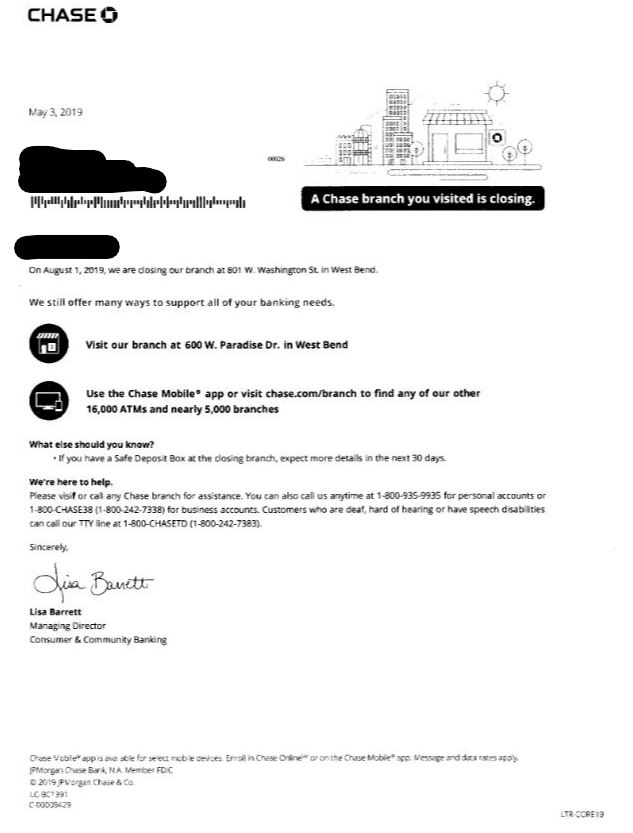 In September 2017 in West Bend the Bank Mutual, 1526 S. Main Street, announced it was consolidating with Associated Bank on Paradise Drive.
In March 2019 the property sold and will be the new home of Landmark Credit Union.
On a history note: Remember when the factories, West Bend Company, Amity Leather, and Enger Kress, were in West Bend and on Fridays the banks were open late because people lined up to cash/deposit their checks. At noon some tellers even noticed customers had a little beer on their breath after having a 10-cent tapper during lunch.