Another step forward for the development of Pizza Ranch in West Bend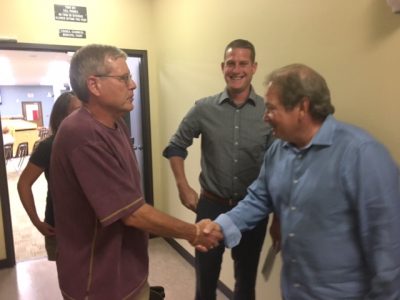 August 2, 2017 – West Bend, WI – Another step forward for development of a Pizza Ranch in West Bend as the Plan Commission on Monday night unanimously approved a site plan for architectural building changes and minor parking lot alterations to the location, 2020 W. Washington Street.
That site is the old Ponderosa owned by Steve Kilian.
After approval Mayor Kraig Sadownikow offered congratulations the project was moving forward. "There's no limit to the amount of congratulations we can give you and hopefully this is the one that makes it happen," he said.
In the corridor outside the council chambers Matt and Stacy Gehring, owners of Pizza Ranch West Bend LLC., exchanged a handshake with building owner Kilian.
"These are good kids," said Kilian.
Dennis Fechter, who was in the audience at the meeting, also came into the hallway following the vote. "I just want to give them all a hug," he said. "I can't wait for Pizza Ranch to open."
The next step is for Pizza Ranch West Bend LLC. to close on the purchase of the property. That's set for the end of August.
Kilian purchased the old Ponderosa property in October 2011 for $920,700.