Anticipate the best possible outcome – "Breaking through Bureaucracy"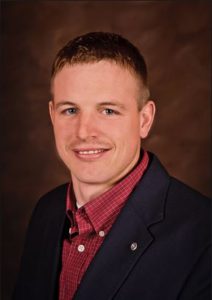 If you've thumbed through the newsfeed of your favorite social media app, you may be inclined to be a bit pessimistic. Do not be dismayed my friends, there is plenty to be optimistic about here in Washington County!
While doing some work this past week in preparation for a visit by Governor Walker, we took a long overdue tour of the building affectionately referred to as the "Old Courthouse." Many of you may know this building as the current home of the Washington County Historical Society. Others may recall the building from days gone by as the place where you picked up your marriage certificate, birth certificate or conducted other county business. However, if you see this building today, one can hardly pass through the walls of the gorgeous relic and not feel the history surround you.

In admiring the interior of the building during my visit that day I couldn't help but wonder what those who came before us would think if they could see us now. I could almost hear them saying, "Look how far you've come! This community (our County) has so much going for it.
What was once a small rural outpost between Milwaukee and Fond du Lac is now a beautiful rural suburban haven, close enough for commerce and culture yet far enough for peace and tranquility. You have so much opportunity!"

As I stepped out of that beautiful building and sat down to write this month's column I did so with a new found energy and optimism. This community is in fact extremely blessed. The opportunities for innovation and improvement are almost endless.
We have so incredibly much to offer to ourselves and those who one day will call Washington County home. We have fantastic schools, just take a look at our national rankings, and our state test scores. We have a wonderful network of nonprofits supporting a quality of life for all citizens of our County. We have terrific natural resources. Where else can you go where you live 30 minutes from the hustle and bustle of the big city, and yet are surrounded by beautiful woods, marshes and farm country? We have a superb business community with incredibly generous corporate citizens.

Picture for yourself the beauty of the Romanesque Revival architecture of our "Old Courthouse". Now consider, if you will, what it must have took to build that wonderful structure back in the late 1880's. I can tell you this, it wasn't done by any one person alone.
The only way such an amazing building was erected at that time in history was by the collective effort of hundreds of people dedicated to making their community one beautiful piece of Wisconsin.

We have so incredibly much going for us in Washington County. Now we need to take the collective work of the hundreds of thousands of us who call this place home to build whatever the next "old courthouse" is going to be. In the words of John F. Kennedy, "One person can make a difference, and everyone should try."