West Bend, WI – The HomeTown Foundation is closing the books on its 2021 season the way we always do by delivering on our promise: To assist those in need.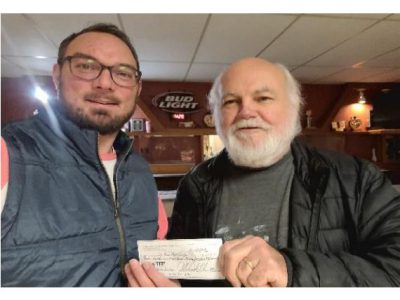 Mike Christian, Vice President of The Hometown Foundation Inc makes his annual rounds, delivering end-of-the-year checks to partner organizations for their support of the Hometown Foundations community events. Contributions to other organizations were made throughout the year.
Each year the Hometown Foundations Board of Directors approves events to be created and held in the Washington County Area that feature Wisconsin based musicians/ artists.
The Hometown Foundation partners with various local non-profit organizations to help staff the volunteer needs of the events. The proceeds are divided up amongst the groups. Additionally, a portion of the proceeds is set aside for hardships that individuals, organizations, or whole communities may face throughout the year.
Local Music helps area non-profits
Events like The HomeGrown Music Festival, Regner Rocks, and Sounds at Sandy Knoll will continue to benefit The Hometown Foundation's Mission of supporting its community through philanthropic efforts that hinge on quality-of-life initiatives.
"With the help and support of generous sponsors, amazing volunteers, and a dedicated community that loves music, in 2021 we were able to generate nearly $80,000 of economic impact in the Washington County area, and were responsible for contributing nearly $12,000 to our partner organizations and others in need" said Mike Christian, Vice President and Co-founder of The Hometown Foundation Inc.
Economic Impact
Part of that economic impact was payment to musicians ($20,250), local marketing/ advertising/ printing services ($11,950), payment to sound technicians ($7,500), and Rental Fees/ Licenses to City of West Bend ($6,980).
Our Partners
The dedicated partner organizations include: The West Bend Moose Lodge, The Bend Theater, Chix 4 A Cause, The Volunteer Center of Washington County, G.E.A.R.S Bike Group, West Bend Sunrise Rotary, United Way of Wash Co. Emerging Leaders, The West Bend Public Library and Guitars 4 Vets.
Click HERE for more information about The HomeTown Foundation or email Mike Christian: [email protected]