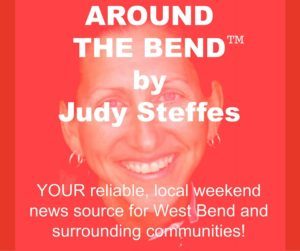 – Job interviews for on-site caregivers on Tuesday, April 4 from 2 p.m. – 4 p.m. at Homes for Independent Living on W. Washington Street in West Bend.  Print this ad and show recruiter to receive a $1,000 signing bonus.
-There are barricades up on S. 18th Avenue between Schloemer Drive and W. Decorah Road as work is being done to install sanitary sewer and water mains. The road will be closed until approximately late May 2017. This utility installation is being done ahead of the reconstruction and widening of 18th Avenue from Vogt Drive to Decorah Road, which is scheduled for construction in 2018.
– The move to a new corporate headquarters for Delta Defense/ USCCA appears to be complete as the American flag is now in place on Freedom Way just off Corporate Center Drive in West Bend.
– The DIVA Spring Bling is coming up Thursday, April 27 in downtown West Bend. Proceeds from umbrella and specialty ring sales benefit Chix 4 a Cause.
– Make your Easter plans early and come out to The Columbian on Saturday, April 8 for the 35th annual Kiwanis pancake-sausage brunch with the Easter Bunny.  Tickets are available at Horicon Bank in West Bend, The Columbian and Minuteman Press.
– Mark your calendars for the Friday, April 14 Fillmore Fire & Rescue Fish Fry at the Fillmore Fire Department. Tommy Schwai and his team will also be busy making shrimp.  There will be free desserts for donating a non-perishable food item!
– Horicon Bank has stepped up this year to sponsor the fireworks during the July 4th celebration at Riverside Park in West Bend.
-The West Bend American Legion Post 36 will be hosting a brat fry on Friday, Saturday and Sunday, April 28, 29 and 30 at 1421 W. Washington Street from 9 a.m. – 4 p.m. Proceeds to local projects and veterans programs.
-Students at schools across Washington County including West Bend, Kewaskum, Slinger and Germantown are competing for a traveling trophy as they come up with an Anti-Drug slogan. The best anti-drug slogan will be used county wide at future anti-drug events. Judging will be April 6 at 6 p.m. at the West Bend Mutual Prairie Center.
-The Exclusive Company in West Bend is already advertising this year's Record Store Day as April 22. The day includes sales, free food and live music as the store, 144 N. Main St., celebrates its independence. The store opens for 12 hours of sales from 8 a.m. – 8 p.m.