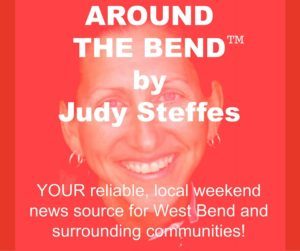 Dec. 19, 2016 – Washington Co., WI – During Monday's West Bend Common Council meeting there will be a resolution to approve a private street name and unique address for Delta Defense LLC Corporate Office building. Tim Schmidt, owner of USCCA, is building a new headquarters on Corporate Center Drive in West Bend. The building can be seen from Highway 45 just south of Paradise Drive.
– The River Shores YMCA group donated 110 pounds of food and $135 to the Full Shelf Food Pantry. Donations were raised as the Y staff cooperated in hiding an Elf on the Shelf every morning at 5 a.m. Staff then validated those who located the hidden Elf, filled out a ticket, and hoped their name would be drawn for a Y contributed prize. Everyone had fun, and the little Elf certainly had a grand tour of the River Shores Y! The culmination of the Elf's hiding was the Holiday Party on Dec. 13 at the Kingpin Bowling Alley.  Hat tip Kathy Fish
–The ice skating rink at Regner Park is expected to open Dec. 22 at the earliest.
-Part of the success of this year's Taste of Washington County included a live auction where four sessions to spend a day with the Washington County Swat Team were auctioned off and each session sold for $7,000.
– The final phase of improvements is underway at the West Bend Cinema as the new reclining chairs are being installed.
– The final edition of the St. John's cookbook 'Our Favorite Recipes' is available at several businesses in West Bend. Todd Tennies at Tennies Ace Hardware has a strong supply of the popular church cookbook, which began in 1949.
-West Bend Mayor Kraig Sadownikow will name a new member to the Downtown West Bend BID board on Monday. Board member Lauri Gundrum is stepping off and it's expected Peggy Fischer will be named as her replacement.
– Monday, Dec. 19 the West Bend High School choirs will perform their annual holiday concert. This will be a free event at the Silver Lining Arts Center, 1305 E. Decorah Road.
– There will be a primary Feb. 21 as four candidates are running for state school superintendent including: Tony Evers – Incumbent, Jeff Holmes – Administrator, Germantown School District, Lowell Holtz – Former superintendent, Beloit School District and Remy Gomez – 2016 candidate for mayor of Tomah.
– Help is available to families in Washington County that need assistance with winter heating bills. Contact Kay Lucas with the Washington County Human Services Department which oversees the Energy Assistance Program. The number is 262-335-4677.