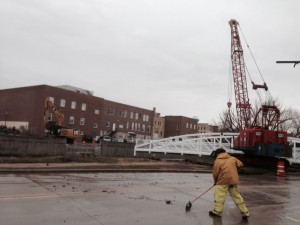 There was a pretty consistent downpour Wednesday as crews moved the new pedestrian bridge into place over the Milwaukee River. The star of the show, a freshly-painted white truss bridge that weighed in at 32,000 pounds arrived shortly after 11:30 a.m.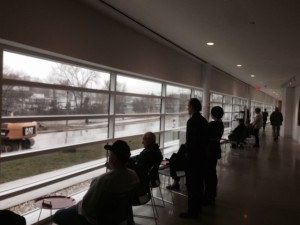 The ones with the best seat in the house were guests of the Museum of Wisconsin Art. Neighbors were given front-row seats before a series of windows that lined Veterans Avenue.
There was some interesting chatter during the moving process as folks analyzed the mechanics behind the move.
Former teacher and budding artist Jon Schoeneck of Jackson used the opportunity to document the move by putting pencil to paper.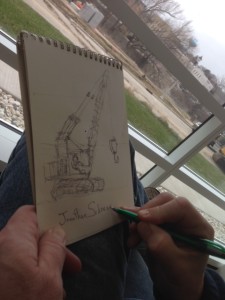 "I just like to goof around," he said. "I kinda like to draw people."
Sketching quickly, Schoeneck said he preferred drawing musicians because they "stood still."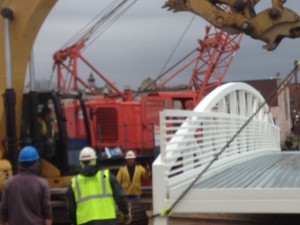 Just before noon MOWA's board of directors was preparing for its meeting. About a dozen people gathered in a group to watch the progress including Prudence Pick Hway.
"All good things take their time," she said praising the view.
"I think it flows beautifully and now the vision you have from here up through the pocket park, past Old Settlers to the Post Office. This will pull people into the museum and from the museum in the the downtown which is what we hoped for."
On a side note, as I was chasing around getting photos and videos and dodging raindrops artist Jon Schoeneck gave me a gift of another drawing he sketched from his seat inside MOWA.