So the first day of training was a little rough.
I wasn't expecting the amount and height of the jumps in the border cross course. I fell trying to do them and ended up training in the terrain park learning how to do them.
But all in all I finished out the day with a great training session, some bumps and bruises, snow rash, and a nice dent in the bottom of my brand new board to remember today.
My nerves are getting worse, we will see how the rest of this week goes.
However, the conditions today were great and it hasn't stopped snowing. Tomorrow is a new day.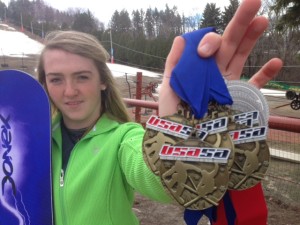 Lexi Bullis is at the USASA Nationals to compete in the Giant Slalom, Slalom and Boardercross events for snowboard at Copper Mountain, Colorado.
More stories about Bullis and her snowboarding career at prepping for national competition.