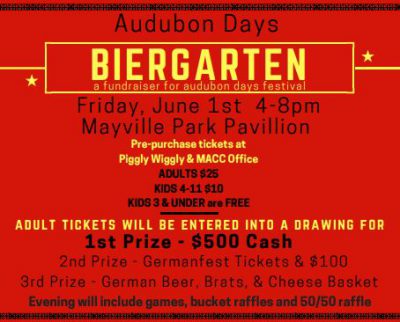 May 30, 2018 – Mayville, WI –  The annual fundraiser Biergarten in Mayville in Friday, June 1 from 4p.m. to 8 p.m. at the Mayville Park Pavilion.
The event includes a $500 cash giveaway.  Your ticket and a chance for the top 3 prizes, includes a Fish Fry from LeRoy Meats and music from the River City Blaskapelle.
German attire is encouraged and neighbors are willkommen to celebrate their German heritage at the Biergarten in Mayville.
Many import beer flavors available.  Tickets are $25 for adults.