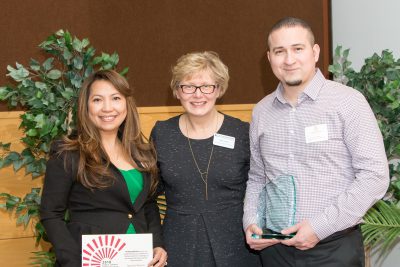 April 6, 2018 – Washington Co./Fond du Lac Co., WI – Moraine Park Technical College students, Jose Bustos and Queenie Weesen, were recently recognized by Wisconsin Campus Compact, an association that recognizes those who have shown excellence in civic engagement. Award winners were honored at the annual WiCC Civic Engagement Institute, March 8-9, 2018 at the University of Wisconsin-Whitewater.
Bustos was the winner of the Jack Keating Student Civic Leadership Award, recognizing students that have taken a leadership role in creating change in their community. Bustos is not only a student, studying Information Technology (IT) at Moraine Park, he works full-time and is the single parent of an 11-year-old son. Bustos has been an active part of the Moraine Park Fond du Lac campus and the community as a whole.
Weesen was the recipient of the Newman Civic Fellows Award, recognizing community-committed students who look to create long-term social change. Weesen is a current nursing student at Moraine Park, who is involved on campus and in the community. She immigrated to the United States at age 19 and worked as a CNA to help her siblings pay for college. Now, Weesen is pursuing her degree.
For more information on Moraine Park, visit morainepark.edu.