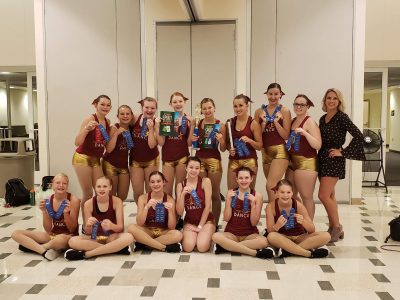 July 24, 2018 – West Bend, WI – The West Bend East Dance Team spent a successful and physically demanding week at UDA Dance Camp, held at UW-Milwaukee. The girls worked on individual and team skills development, and competed in numerous categories.
At the end of the week, the team was recognized by the UDA staff for their spirit and energy with a Super Spirit Stick and four Spirit Sticks. Coach Kaylee Popp was honored with a Coaches' Recognition Award.
The 14 girls won more than two dozen individual blue ribbons. The team earned blue ribbons for all four of their performed routines, and a third place ranking for their home dance routine, which qualifies them to perform at the Citrus Bowl in January.
Sophomore co-captain Tessa Zerillo was honored with a Pin it Forward award.
Junior team captain Brianna Vitkus was an All-American qualifier, and was invited to perform in the UDA parade in Rome, Italy next year.
Over the coming school year, the team will perform at all of East's home Varsity Football and Basketball games.
The team's competition season begins in February.
You can see the team perform this Thursday evening at Music on Main.