Balloon launch in memory of Ryan Yauck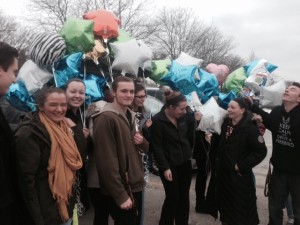 Friends and family of Ryan Yauck gathered at Riverside Park in West Bend on a mild Sunday afternoon to pay tribute to their friend in a memorial balloon release. Yauck, 18, was killed last week after he was struck by a vehicle on Highway 45.
One by one, cars and SUV's stuffed tight with mylar balloons pressing against the windows, pulled into the parking lot off Kilbourn Avenue around 3 p.m.
"We just decided to come out and show what little support we can," said Jerry.
For the next 20 minutes students from the West Bend High Schools used black marker to pen notes to their friend.
One woman, who asked that her name not be used, said more attention should be paid to getting the word out about safe driving practices.
Washington County Sheriff's are still investigating the crash. The name of the 34-year-old man who struck Yauck as he filled his car on the shoulder of the road with gas, has not been released.  Authorities do not believe alcohol or drugs were factors in the accident.