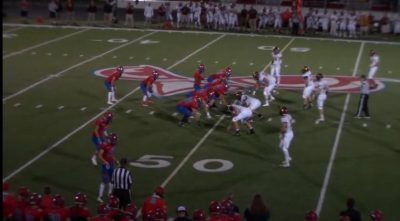 Sept. 14, 2018 –  Slinger, WI – An entertaining evening for all as nearly 500 students performing at half-time during the Slinger/West Bend East Football game.  Preceding the game the annual band fish fry was held, serving 433 people.
The first quarter Slinger was successful as Jeraed Lighthizer scored on a 39-yard run with 3:30 into the game.  The Point After Try by Trevor Ulesich was good giving Slinger the lead 7-0.
It was a high-scoring second quarter.  At 2:06 into the second quarter West Bend East quarterback T.J. Simpson completed a 9-yard pass to Mason Kirk and the point after by Kirk was good, score was tied!
Four and half minutes later Lighthizer responded with a 3-yard run on the handoff from the Owls quarterback Daniel Breuer, PAT by Ulesich was successful for a 14 – 7 Slinger lead.
With 1:24 remaining in the first half, Caleb Knoll put the football through the uprights for a 44-yard field goal.  At the end of the half Slinger led West Bend 14 – 10.
Third quarter proved to be a defensive battle with no scoring by either team.
Slinger finally put some points on the board with just under 3 minutes left in the game on a 19-yard run by Lighthizer.  P.A.T. by Trevor Ulesich was good giving the Owls a 21 – 10 lead.
Click HERE to watch a replay of the game.
However, the Suns T.J. Simpson completed a 32-yard pass play to Cooper Schlosser and at two-point conversion pass from Simpson to Joe Salamone to get the Suns within 3 points.
Final score was Slinger over West Bend East 21 -18.
Next week Slinger will host the Port Washington Pirates, who beat Hartford 35 – 25 Friday evening.