December 13, 2020 – Hartford, WI – Benjamin "Benny" D. Lee, 2, of Hartford gained his wings and passed away peacefully on December 11, 2020 in the arms of his parents at Children's Hospital in Milwaukee.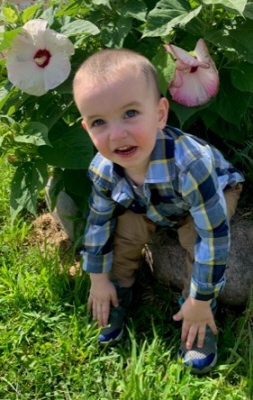 Benny is survived by his loving parents Brianna and Brien Lee. He is the cherished little brother of Sophia. Grandson of proud grandparents Robert and Laura Wesner and Brien and Tammy Lee. He is lovingly survived by many other relatives and special friends.
Benny was born with a condition called Chronic Granulomatous Disease but that didn't slow him down or break his brave spirit. He lived his life enjoying things as a stereotypical boy.
Building anything with blocks and Play-Doh, pushing around trucks and trains, riding his tricycle never using the pedals, all while being Sophia's little brother, playing dress up with her including Snow White and Princess Anna. Benny especially loved his family, enjoying the only cuddles that count, the ones under the blankie.
In his 2 years here with us, he was the most wonderful smiling, sweet and sometimes sassy little boy. We have learned so much about life, love, family and friendship from Benny. He will be missed so much, shaking his little booty to Baby Shark, Bull Dozer Dance, only allowing Sophia to dance and sing with him. Parents not allowed.
A visitation will take place at Shimon Funeral Home, 824 Union St., Hartford, on Wednesday, December 16, 2020 from 11 a.m. until time of funeral at 1 p.m. Private interment.
The family gratefully acknowledges flowers but would appreciate memorial contributions to the family for an "Adventure Fund" for Brianna, Brien and Sophia.
Benny's family would like to send a huge love filled thank you to all those that were so instrumental in his care over the last few years. Especially his team of Dr.'s and staff of the M.A.C.C. Fund Center at Children's Hospital, Lake Country Pediatrics and of course our family and friends.
Benny, you are so loved and will be so missed by all who knew you.
With all of the love in the world,
Mommy, Daddy & Ya-ya
Love you poopy butt!