Washington County, WI – Bilda's Friess Lake Pub, 4493 WI-167, Hubertus, WI, is celebrating its 15th Anniversary this year with some great specials. "The fire truck is close to being done and will be ready to go for beer, bands, and BBQ outside starting in June," said Vickie Bilda.
Bilda's Friess Lake Pub is extending its gift card deal through Memorial Day so don't miss out. For every increment of purchased $25 gift cards, you get a free $5 card. Click HERE for more information about Bilda's gift cards and get yours today.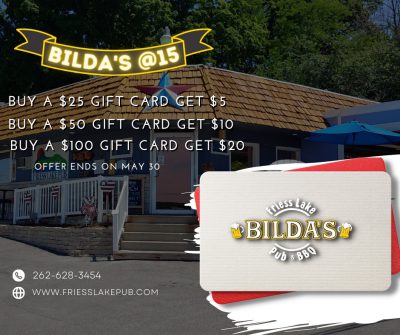 Hear ye, hear ye! Cigars are back in stock at $10 each.
TRIVIA: Because you asked for it, Trivia is starting back up on May 25, 2022, from 7:00-9:00 p.m. and continues every other Wednesday. Click HERE to learn more.
MAGIC: While the food at Bilda's has been deemed "magically delicious," this magic comes in the form of Close Up Magic with Caleb Hyatt. Hyatt will be performing on May 19, 2022 from 5:30 to 8:30 p.m. Click HERE to learn more about this unique, table-to-table one-man magic show.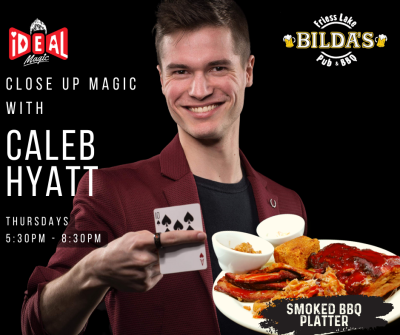 Click HERE to SUBSCRIBE to FREE local news at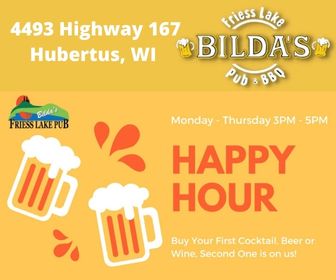 HAPPY HOUR: Happy Hour is 3:00-5:00 p.m. Mondays-Wednesday. Drink specials and drink free while you're on the machines gambling, just like Las Vegas. Same goes all day on Thirsty Thursday 11 a.m.-9 p.m. Click HERE to learn more about Bilda's Happy Hour.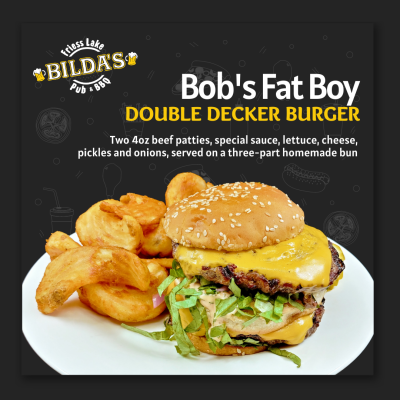 Check out Bilda's weekly meal specials HERE. Pizza, chicken dinner, smoked meat tacos, smoked BBQ, all-you-can-eat fish fry, prime rib dinner, smoked and seared Nei's tri-tip steak sandwich are just some of the mouth-watering specials that will send you back to Bilda's for more.
Bilda's has an extensive 'beers on tap' list as well as specialty liquor and wine.