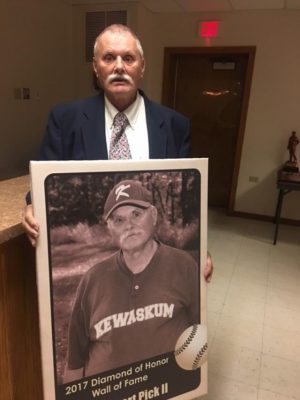 Feb. 16, 2018 – West Bend, WI – A piece of West Bend died on Friday night, Feb. 16, as word came out of Froedtert Hospital in Milwaukee that Bob Pick Jr. passed away. Pick entered the hospital on Tuesday, Feb. 13 after being found unconscious; he declined thereafter. `
Doctors indicated Pick may have had meningitis.
The news comes as a shock to many as Pick was a fixture in West Bend, especially at sporting events.
"It will be hard for any male or female athlete that went through the West Bend High School system in the last 40 years, not to have a memory of Bob Pick," said West Bend Mayor Kraig Sadownikow.
"He made an impact on literally thousands of people, he was a guy who was always in a good mood, a guy who always thought he had a funny joke…. whether they were or not … he was just an icon on every athletic field, gym or court in West Bend and across Wisconsin."
Pick was part of the fabric of the community. He would approach anyone and engage them in conversation. The icebreaker was normally to ask about your high school and then he'd proceed to give the teams nickname, the mascot and list some high profile athletes from that school.
Former coach and major league player Willie Mueller of West Bend said Bob's been "a part of the baseball scene and such a helpful person for years."
"He was a unique kinda guy but he will be truly missed," said Mueller.
The sporting community wrapped its arms around Bob Pick, many said you "couldn't help it, he was everywhere."
"If there was anything going on he was at that game and he'd always bring scorecards or programs back," said Mueller. "It was truly amazing what he did. If the 7UP team was playing he'd come in after the high school games were done or he'd be walking down and getting a burger or brat and he'd have his Navy hat on.
"You know, sometimes people would get a little frustrated with Bob but his heart was always in the right spot."
In 2017 Bob Pick was inducted into the West Bend Baseball Association Wall of Fame and recognized for his dedication to meticulous score keeping for over 50 years.
"Good evening friends of baseball. This ride has lasted over half a century and the reason that's happened is because I've lived long enough," said Pick.
"West Bend is a baseball town," said Pick. "People have a passion for the sport. I thank the Association for the award and for the friendships that came with it."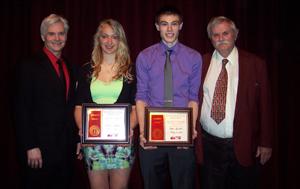 Deb Butschlick, athletic director at UW-Washington County, said Bob's dad started the Robert D. Pick Male and Female Athlete of the Year Award in 1988.  "Once his parents passed Bob always represented the family at our athletic banquets," said Butschlick. "Bob always greeted the student athletes and talked to them and he was always a big part of that."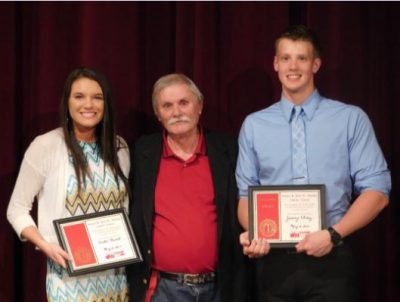 Mitch Knox played for the West Bend Lithia baseball team in 1983. "Bob was one of the friendliest guys you would ever meet; I don't know that he ever knew a stranger," said Knox. "He was always on the ball field or the track or cross country."
Knox said Bob Pick would always come armed with a gift, either a simple scorecard or a t-shirt. "He knew I went to Kentucky and the next thing you know he gives me a shirt from Kentucky for the kids."
Knox recalled another time, years ago, when he was with Bob Pick at a Foghat concert at the old MECCA in Milwaukee.  "Bob was with us and he ended up knowing the security guard and he got us all in for free," laughed Knox.
"And he took in his bag of peanuts and his warm skim milk in a bag. I remember we went to a Milwaukee Brewer game too and he knew the security guard there as well," said Knox.
Funeral arrangements for Bob Pick are pending. He was 76 years old and would have turned 77 next week.