West Bend, Wi – There's a new business operating in a space previously home to a well-known racetrack in West Bend, WI. Braund's Flooring & Remodeling, LLC,
6405 Stockhausen Lane, Suite C,

is owned by Dawn and Jeremy Braund.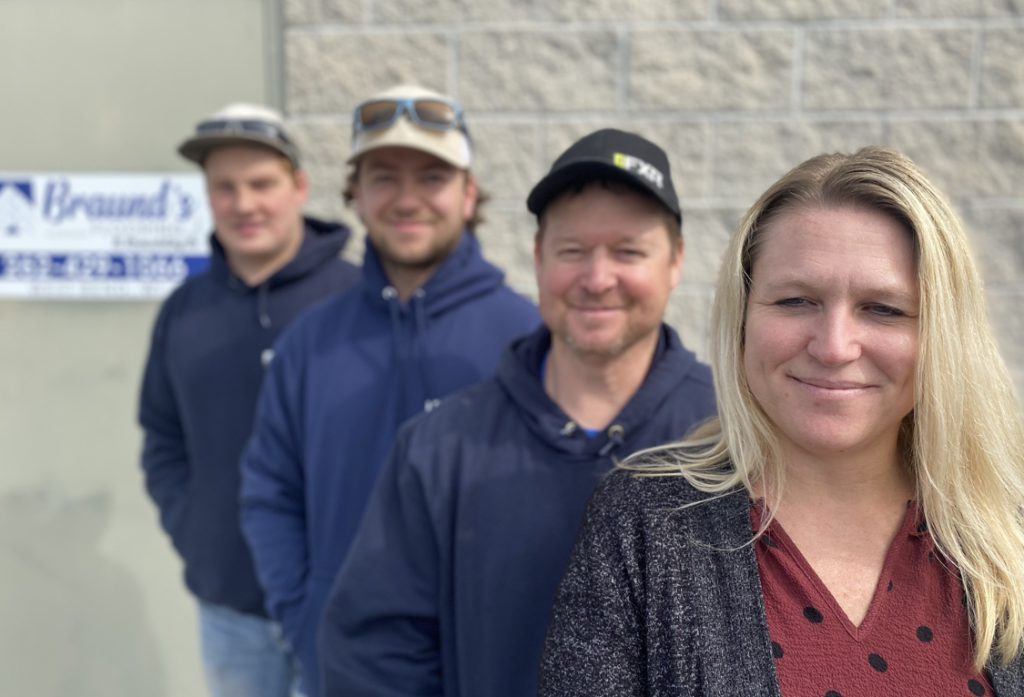 The couple set up shop earlier this year in the former Stocky's Fast Track. 
Other than four walls and the cement floor, there's not much more than memories of the old Stocky's as the Braund family works to grow its business across Washington County and neighboring communities including Ozaukee, Dodge, Fond du Lac, and Sheboygan.
Click HERE to SUBSCRIBE to FREE local news at
"I've been in the flooring industry for about 28 years," said Jeremy. "I got my start when I was 17 years old."
The Braund's knew they always wanted to have a business of their own.
Click HERE to follow Braund's Flooring & Remodeling on Facebook
"I learned a lot on the job, working with different materials and hard goods," said Jeremy. "I can do it all when it comes to flooring and bathroom remodeling."
The storefront at Braund's Flooring & Remodeling features a comfortable mix of samples from carpet to vinyl plank to ceramic tile.
"You don't have a feeling of being overwhelmed when you come in," said Dawn Braund. "We're able to show you options, send samples to your home, and walk you through smart choices regarding colors and what will wear best with foot traffic and your family."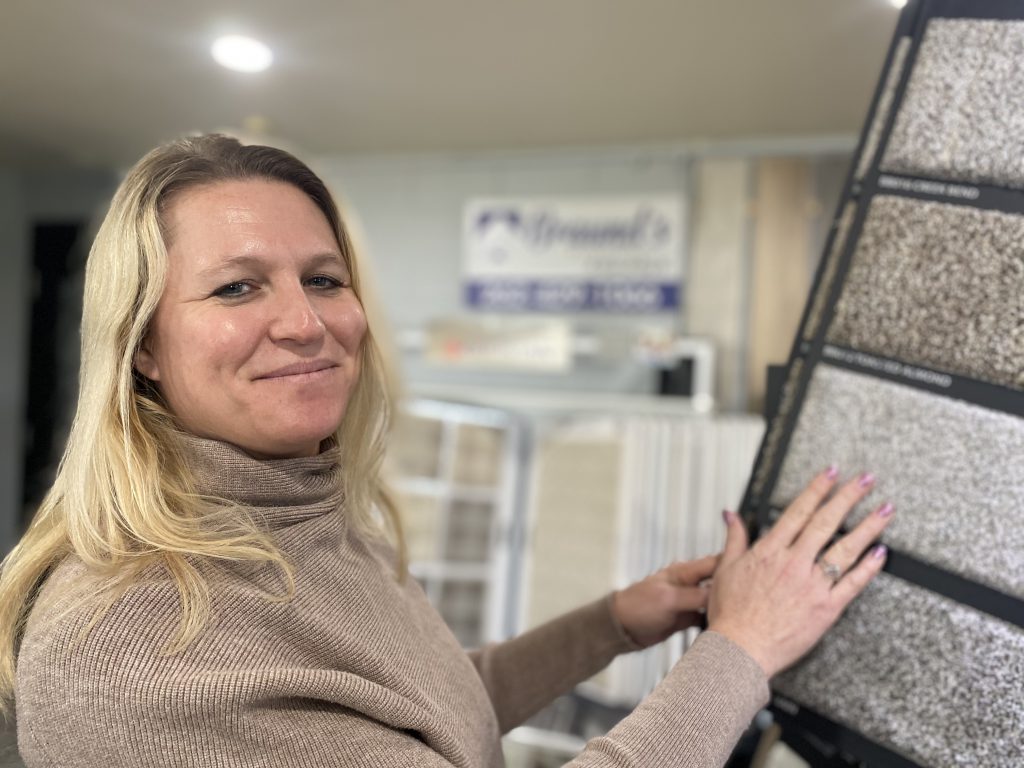 The Braund's resume is strong as they have mastered the installation of carpeting, luxury vinyl tile and plank, wood floors, ceramic tile and the installation of shower doors. "We saw the need with bathroom remodeling," said Jeremy. "We're a one-stop shop."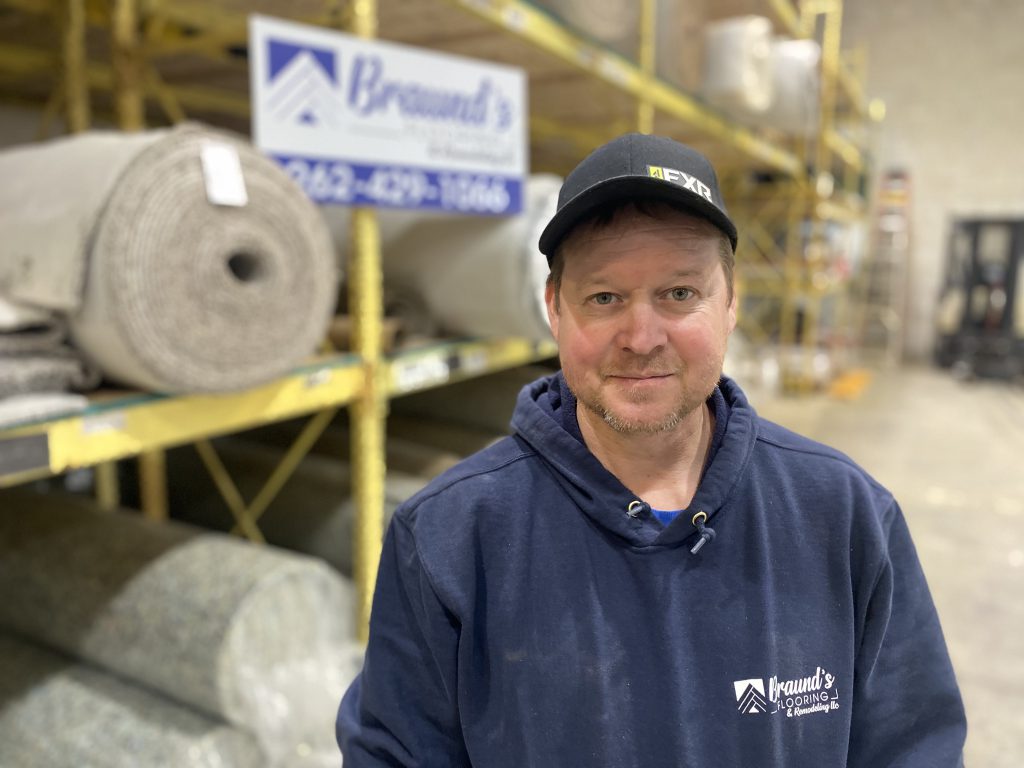 While Jeremy provides the meticulous install, Dawn offers seasoned advice when it comes to picking out colors and determining durability. The showroom has a wide variety of flooring samples to choose from.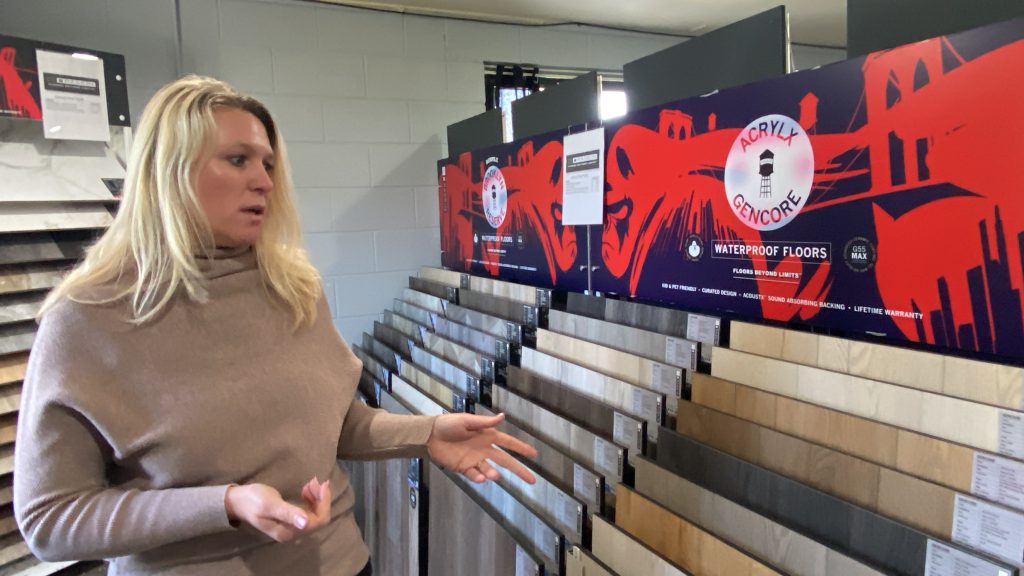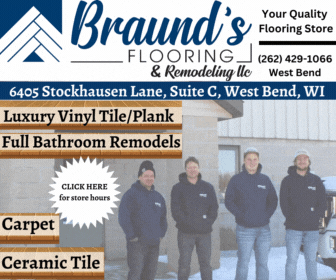 "Based upon the lighting and your cabinets or wall color, trim work; we help you envision what will go with your color scheme and determine durability in high-traffic areas," she said. "We always keep in mind the quality of what they're looking for, how long does it last, the manufacturer warranty and, of course, whether you're going to like it when we're done."
Current trends, according to the Braund's, include the ever-popular vinyl plank flooring.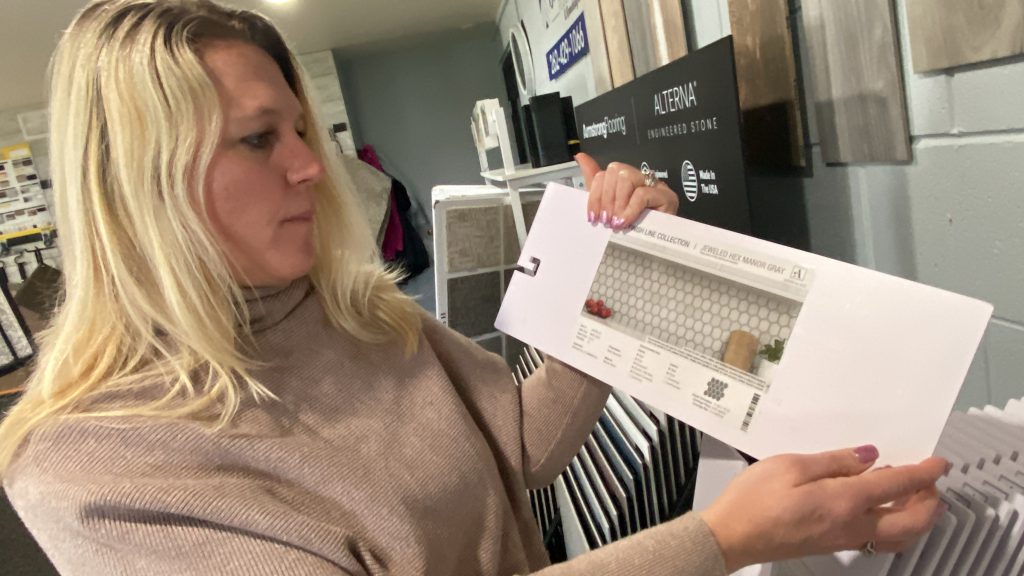 "That's normally found throughout the house and then it's enhanced with area rugs," said Dawn. "Vinyl planking holds up very well, it's easy to clean and waterproof. We're also seeing a lot of ceramic."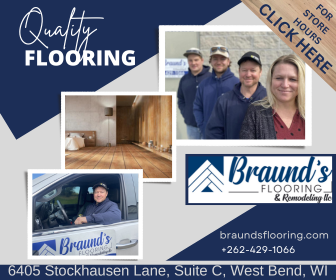 Braund's Flooring and Remodeling also specializes in heated floors. "The ceramic lasts forever and more people, especially in Wisconsin, like the heated floors in the bathroom," said Jeremy.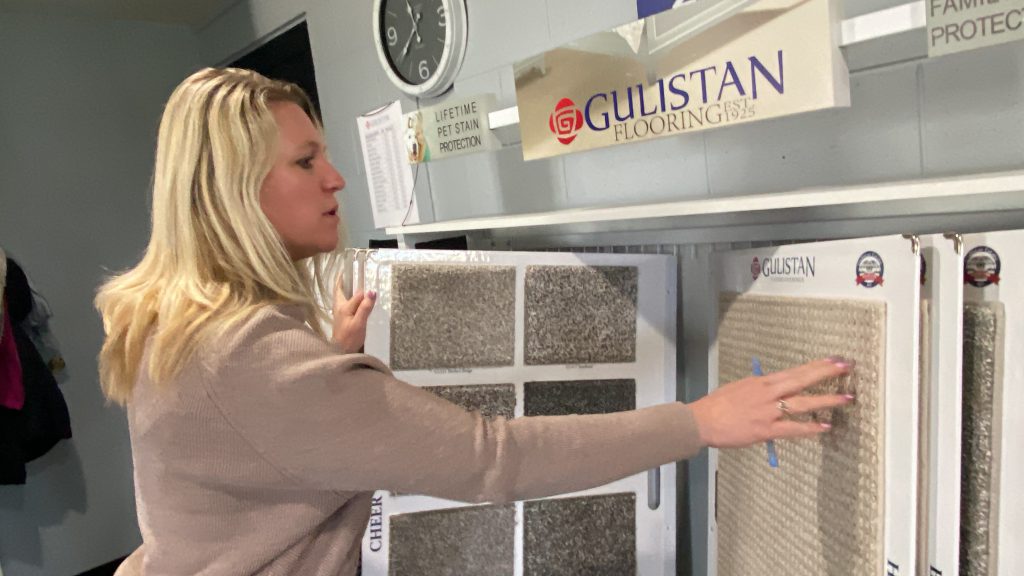 As a mom of four kids, who runs a busy household at their home in Mt. Calvary, Dawn knows the importance of how color choices can affect the comfort and appearance of a home's interior.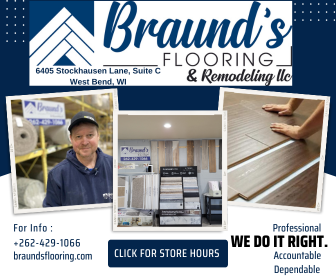 "The manufacturers work really well with us; if you want to see a bigger sample than what we have here, they'll ship it right to your house," she said.
Other advice includes bringing in a picture of the room. "We want to keep in mind more than the color or texture of the walls. We're going to look at the cabinets and the lighting to determine what really looks good and works well," said Dawn.
"We understand this is a big investment so we will take our time, and work with you to make sure you're happy with a quality product."
A typical turnaround on a job is about a week once the order is placed, the product arrives, and the install is complete.
"Braund's Flooring & Remodeling is looking forward to working with the residents, business owners, builders, local contractors in the surrounding communities assisting with completing their projects by providing them with quality products from our store front along with professional installation services," said Jeremy Braund.