Brenda Oelhafen Award presented to Kewaskum teen
Nov. 16, 2016 – Town of Polk, WI – On October 15, 2016, Washington County 4-H held its Achievement and Recognition Banquet at the Washington County Fair Park.
Youth who did an outstanding job on their record books received project awards.  There were also awards presented to 4-H Alumni, Friends of 4-H, Recognition of Leaders and many more.  One of the last awards of the evening was the Brenda Oelhafen Award.  I was fortunate enough to receive this award.
I knew the award was given to a 4-Her that did a great job throughout the year in youth leadership and community service.  I also knew the award was given in the Memory and Honor of Brenda Oelhafen.  I just didn't really know about Brenda Oelhafen.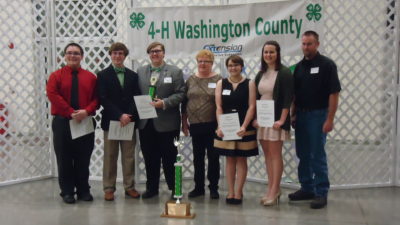 With the large traveling trophy that has past winners listed and a smaller trophy I get to keep, there was also some information about Brenda Oelhafen.  I thought it would be a great to recognize Brenda Oelhafen and let everyone know why this award is given.
This is part of the information on the certificate:
Brenda was a 15-year-old sophomore at Kewaskum High School, the Secretary of the Leader's Association, a member of Wayne Crusaders 4-H Club and a very active participant in music, sports, theater, and her 4-H projects, having just won the Grand Champion Beef Dairy at the county fair in 1985.
Although 1985 is a long time ago and long before your existence, when you lose a young productive and talented daughter, it was our wish to continue something very important in her memory.  That is the basis for this award.
Every year Brenda's family reviews 4-Her's record books and picks a handful of youth who are eligible to receive this award.  They then cold call each youth and do a small phone interview.  It was my honor to have received this award this year.
Max Stowers
Max is a 16-year-old Kewaskum High School junior who is involved in 4H Club – Kettle Country Kids
4H projects: Art, Clowning, Rocketry and Youth Leadership