Brett Cramer wins WB Baseball Association Award of Merit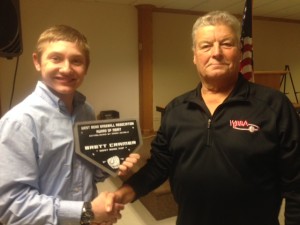 More than 200 people turned out Saturday night for the West Bend Baseball Association Diamond Dinner & Benefit held at The Columbian.
Awards were handed out for Player of the Year and Amateur Player of the Year, but the crowd favorite on the night was Brett Cramer who won the WBBA Award of Merit for his season as the youngest player on the West bend 7 Up team.
Cramer joined the team full time and was praised as "the glue to pull together a group of veteran players and make a run towards a Land O' Lakes championship."
"Cramer's effort in the dugout keeping guys loose and his hard work and effort to get better on the field opened eyes of the West bend Baseball community.  Cramer was honored for the positive impact he made every day.
Cramer is a freshman at Waukesha County technical College and is majoring in law enforcement. He will be returning to the West Bend 7 Up roster for the 2016 season.
For more local news by reporter Judy Steffes from West Bend, Kewaskum, Slinger, and the surrounding community sign onto http://www.washingtoncountyinsider.com