January 24, 2021 – Theodore Clarence "Butch" Merten was born on March 25, 1936 to Peter and Melinda (nee Spaeth) Merten.   On July 4, 1959 he married Marilyn Schulteis. He was a self-employed contractor of Merten Builders. His hobbies included lawn cutting, woodworking, traveling, spending time with family and friends, listening to Polka music and Danny O'Donnell.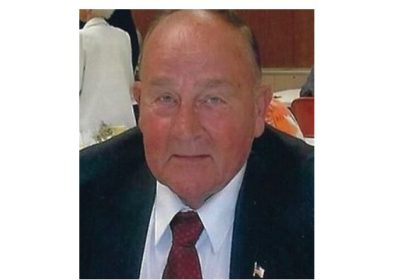 Butch was a member of St. Peter's Slinger, Allenton Fohl-Martin American Legion Post 483, St. Mary's Holy Name Society, Town of Polk Supervisor. He served in the US Army at Fort Lewis, WA from 1955-1957.
He is survived by his wife of 61 years Marilyn; 7 children Jane, Janet, Paul, Peter (Erica), Janine (Matt Erdman), Patrick (Abby), Jeanne (Larry Houk); 11 Grandchildren Darren, Derek, Lauren, Dylan (Taylor) Merten; Jack, Max, Maisie Erdman; Cameron, Kendal, Jordan, and Rylan Merten; sister Joan (Tom Wenninger); in-laws Theresa Merten, Fred Rate, Margaret Held, Alice Schulteis, Clara Mae Bayer, and Leila Schulteis. Further survived by many nieces, nephews, relatives and friends.
He was preceded in death by parents Peter and Melinda (Spaeth) Merten and Albert and Clara (Hennes) Schulteis; brothers and sisters Robert Merten, Jim Merten, Bernice and Robert Blank, Marie Rate, Ted & Adela Schulteis, John & Burnette Achenreiner, Richard Held, Eleanor & Tom Mergener, Albert Schulteis, Gilbert Bayer, and Ralph Schulteis.
A Visitation for Butch will be held on Sunday, January 24 at the Phillip Funeral Home Chapel (1420 W Paradise Dr. West Bend) from 12 p.m. until 3 p.m. with a Rosary Service at 3 p.m.
A Mass of Christian Burial will be held Monday, January 25 at 10 a.m. at St. Peter Catholic Church (200 E Washington St. Slinger) with Rev. Richard Stoffel presiding. Interment will follow at St Mary Cemetery in Richfield.
Memorials to St. Peter Catholic Church Slinger, Kathy Hospice, Washington County Historical Society, and Washington County Ag & Industrial Society are appreciated.

The Phillip Funeral Home of West Bend is assisting the family.
(262) 338-2050 / www.phillipfuneralhome.com