Washington County, WI – Village of Kewaskum Clerk/Deputy Treasurer Tammy Butz, reviews important voter information as the April 5, 2022, Spring Election is on the horizon.
Below is a 101 primer on indefinitely confined receiving an absentee ballot, legality of ballot drop boxes, and in-person voting. A sample ballot for Kewaskum is posted below.
Prior to the Tuesday, April 5, 2022 Spring Election Butz provided answers to some questions presented by the community to washingtoncountyinsider.com
Q: If I am indefinitely confined will I still get a ballot sent to me automatically?
A: "Yes, you will. As long as [voters] return their ballots, we'll send a letter after the election to those that did not return, just confirming they are indefinitely confined, and we will keep that status," said Butz.
Q: What if someone is not being truthful about being confined? Is that an issue?
A: "We can't ask that question," said Butz, "It could be that their sickness is temporary, like during COVID, when they weren't going to come out."
Q:  I am an elderly person that wants an absentee ballot. Do I still need to provide a photo ID?
A: Butz recommended going to the website myvote.wi.gov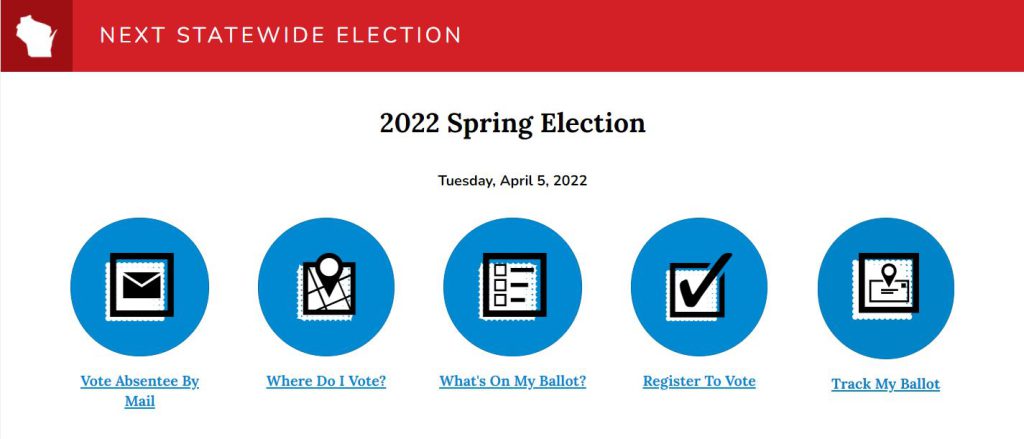 Q: What if I don't know how to / or have access to a computer?
A: "You will need to come in and request a ballot then," said Butz. "And bring a photo ID. You need a photo ID to vote."
Q: Do you have a drop box outside of the polling place in Kewaskum?
A: Butz said it is illegal now to have a drop box for ballots, so they do not have one. "We have a payment drop box outside," said Butz, "and I have a sign on there indicating that to use if they do use it [for ballots], we will be sending [the ballot] back to them to return in a proper manner."
Click HERE to SUBSCRIBE to FREE local news at
Q: What happens if you are reviewing a ballot and you can't decipher it; it's signed, not signed…
A: Butz said, "When the ballots/envelopes come back, there's a certificate on the envelope and we need to verify that it is completed.
"We'll affix the label on there indicating the date of election or municipality, the county, the voter's name, and address. And then there's a certification of the voter that they need to sign and date. And then there is certification of the witness that they need to sign and enter their address on."
The most frequently asked questions, according to Butz, refer to the absentee ballot and voting process.
Q: When is the last day to request an absentee ballot?
A: Absentee ballots for the Spring Election may be requested up until March 31, 2022.
Q: When is the last day to vote in-person absentee?
A: "In-person absentee voting starts March 22, 2022," said Butz. Starting the 2nd Tuesday before Election Day, you can vote by absentee ballot in person at your Municipal Clerk's office. The last day to vote absentee in-person is April 1, 2022.
Q: Has your polling place changed due to any redistricting changes?
A: Butz said, "No, we just have the one polling place in Kewaskum, WI – the municipal building, 204 First St, Kewaskum, WI 53040."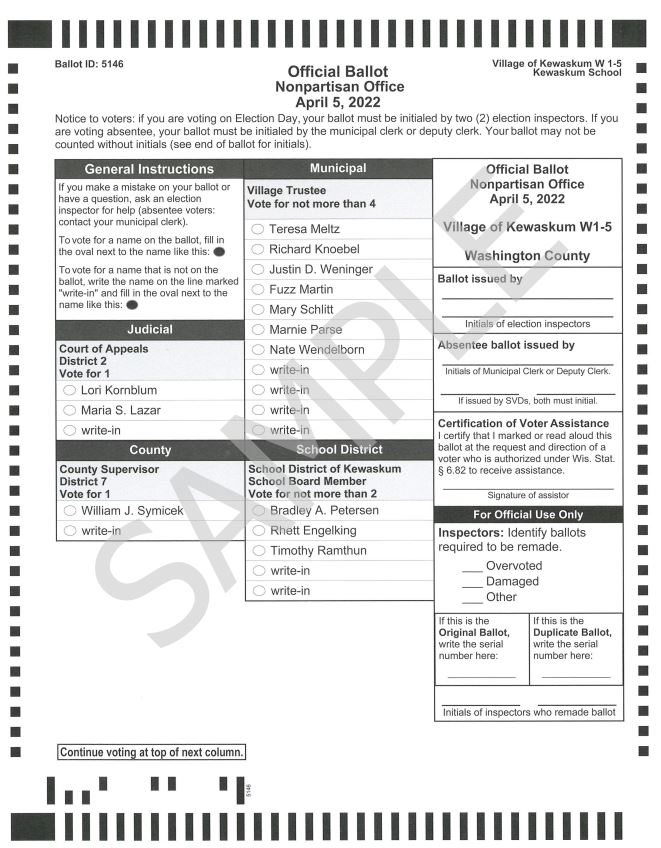 Washingtoncountyinsider.com is publishing a series of election Q&A with clerks throughout Washington County.
Click HERE to read the interview with Village of Jackson Cler, Jilline Dobratz.