West Bend, WI – Catholic parish members from Washington County will be gathering for a "Brat and Burger Welcoming Social" to welcome new pastor Rev. Father Jacob Strand on Thursday, June 22, 2023, at 3245 Lighthouse Lane, West Bend.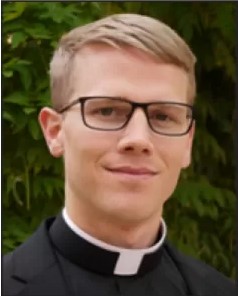 The parish brat and burger social is being sponsored and hosted by the West Bend Council 1964 Knights of Columbus. It is open to all parish members of West Bend, Newburg, St. Michael's, and Kewaskum Catholic parishes. Reservations are required.
The Archbishop has assigned Father Jacob Strand as the new Shared Pastor of SFC and SMIC parishes for a regular term effective June 20, 2023.   Father Jacob Strand is currently the Shared Pastor of Holy Trinity Parish, Kewaskum, and Saint Michael's Parish, Saint Michael.  He will complete his time in those two parishes before transferring to West Bend this summer.
The opening social begins at 4:30 p.m. Dinner will be served from 5:30 to 7:30 p.m. and is free; a freewill offering made to the Knights of Columbus Charity Fund and/or the Seminarian fund are greatly appreciated. A cash bar will be available at the event.
Reservations may be made by calling 262-229-9491 or email [email protected] and will be accepted until June 19, 2023; space is limited so reserve early.
For those unable to make the welcome social, a meet and greet will be held on July 16, 2023, after the 8 a.m. and 10:30 a.m. Masses; coffee and donuts provided.