Oct. 9, 2017 – West Bend, WI – High marks for Chef Jodi Janissee-Kanzenbach and Cafe Soeurette as Lori Fredrich from onmilwaukee.com gave the West Bend restaurant rave reviews for its dedication to farm-to-table and its amazing burgers. Read a portion of the review below.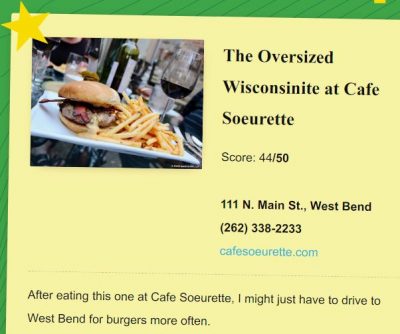 Today the restaurant is abuzz, particularly on Monday evenings when Cafe Soeurette hosts their weekly burger night. Using little ordering cards, diners can fill in their options, from burger to bun and toppings, creating their own masterpieces.
As tempting as it was to create my own burger, I opted for the restaurant's signature creation: The Overstuffed Wisconsinite Burger which features one-half pound of house-ground ribeye stuffed with cheddar brandy jalapeno cheese and topped with ale onions, bacon and spicy mayo ($15). It's served up with a generous helping of French fries.
Presentation: 10
The burger looks delicious right out of the gate. Mine came to the table hot and glistening with visibly crisp bacon and cheese cascading down the side of the burger. It was stabbed with a pickled-jalapeno-studded steak knife, contributing to the idea that this was one bad-ass burger.
Bread/bun: 8
The bun on the burger was plenty soft with a slight crust on the exterior. It was nicely toasted inside, offering nice texture and a bit of resistance against the juicy burger (which wasn't nearly as messy to eat as I'd imagined it would be).
Burger: 9
It's hard to mistake the fresh meaty flavor of freshly ground beef, and this one was delicious. The hand-packed patty wasn't packed too tight, so it stayed nice and juicy. It was also well seasoned with a nice char on the exterior. Truly, this burger would have been delicious on its own, so stuffing it with cheese was really a bit like gilding the lily. 
Click HERE to read the full review of Cafe Soeurette by Lori Fredrich at onmilwaukee.com