July 16, 2022 – AmazingRide, IL – It is an odd experience to be pedaling through a new community and hear someone calling your name.
It happened in Springfield, IL. I met Brian while entering the town. He was on a bicycle, too.
We exchanged names. Brian had questions about touring. He led me to St. Aloysius Church and the rectory across the street. He took off before I rang the doorbell.
The priest wasn't home so I opted for camping at the county fairgrounds nearby.
After a stop at the grocery, I made my way west and that's when I thought I heard my name the first time.
I turned to look and that felt weird. So I started to take off and, again, I heard my name.

I stopped and this time Brian, the only one I knew in Springfield, was biking to catch me as he called out my name.
"I raced home and asked my wife and she said it's OK if you want to stay with us tonight," he said.
Brian didn't have to ask twice. Funny, too, that he was well aware of the protocol at home.
A bike is a common denominator. Brian was genuine; a good guy and a warm bed sure beat camping.
I followed Brian home and we chatted the whole way.
Brian's wife Lynn was a doll. She had a sharp wit and conversation came easy.
"I really would like to tour," said Brian. "Not like you… but just a couple of days."
I was encouraged. I looked at Lynn.
"I don't want to do it," she said. "I like things like home and a bed."
Brian said as much as he wanted to tour he had some reservations.
"Of course, I'd miss my wife," said Brian. "But I'd really miss my CPAP machine."
Lynn rolled her eyes.
"Stop making excuses," she said.
I echoed Lynn's ribbing. Brian was outnumbered.
That was until their neighbor Terry came over. Terry was part of the family. He jumped right into the conversation, changed the topic to food, and then went to get some.
Terry was a self-taught baker. He brought over homemade chocolate turtles with crisp pecans.
While we raved about the treat, Terry talked about how he was preparing to retire by following his wife around the house. Closely.
"Oh, she hates it," said Terry. "I can't wait."
Spent some time at the Lincoln Museum in Springfield, IL. The fascinating history of a lanky lawyer who was described as "unkempt" and "often out at the elbows."
Lincolns also had "a very defective taste in hats."
He wore straw hats and broad low brimmed or felt hats. Best known for his stove pipe hat, Lincoln habitually used it as a desk and filing cabinet, stuffing letters, legal papers and scribbled speech notes inside. One entry read, "It was not always wise. As a congressman attending the 1849 inauguration of President Zachary Taylor, Lincoln supposedly had his hat stolen losing whatever literary treasures were inside." https://youtu.be/SLlBFfO9IxI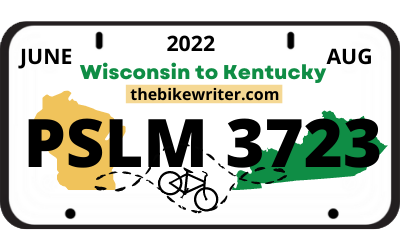 If the way that somebody lives pleases the Lord, the Lord will lead him into good things. Psalm 37:23 Easy English Bible The 2022 Amazing Ride for Alzheimer's is raising money this year for music programming for seniors at Cedar Community, a 501c3, so all donations are tax-deductible. Donate via the secure website through Cedar Community.  Donations should be marked "Amazing Ride 2022." Click HERE to make a secure online donation. Checks may be made payable to "Cedar Community" with "Judy Bike Ride" in the memo line and mailed to 113 Cedar Ridge Dr., West Bend, WI 53095 Be sure to include the Federal Tax ID Number for the Foundation: 39-1249432 You may also find a downloadable donation form HERE. Cedar Community is a 501(c)3 not-for-profit organization, and donations are tax-deductible.