September 27, 2022 – Washington Co., WI – On the November 8 ballot there will be a countywide referendum, asking residents of Washington county if they would vote in favor of increasing the county's portion of their tax levy by nearly 10% to increase staffing of the Sheriff's department by 13% and labeled as an Anti-Crime measure. As a member of the Washington county board of supervisors, I strongly recommend voting NO to this referendum.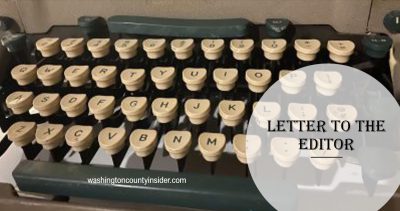 At the August board meeting, I was a very vocal opponent of this measure. At a time when inflation is rampant- decimating the real income of the taxpayers – and their retirement accounts are being hammered, as well as dealing with a myriad of other related problems, asking for an additional 10% from our taxpayers is, in my opinion, completely tone deaf to the economic plight of our constituents.
No one – and I mean no one – is more pro law enforcement, pro police, than me. I believe in the rule of law and am thankful to the members of our Sheriff's department and my local Hartford Police Department for the job they do to protect our communities day in and day out.
But this referendum will not solve the problem that the county executive and sheriff purport it will – the crime problems plaguing our country as a whole and our county are not going to be solved, or even really dented, by a massive increase in the number of Sheriff's department employees. As I have commented before, we can have a member of our Sheriff's department for every cow and cornstalk in Washington county – and it won't fix the interminable crime problems they face. That is just the honest truth…..
Growing the size and scope of government while making county taxpayers poorer are two things I am definitely against. The fact is, county government cannot resolve these problems – to believe it can is only pollyannish, and misguided.
As I have stated before, if you want to reverse the course of increasing crime and drug abuse in our communities, we need to have the courage to vote out in November the people at the state level who are at the genesis of the massive spike in these problems – Tony Evers and Josh Kaul.
The fentanyl crisis is a result of open borders policies supported by Democrats, and its flow will not stop until our border policy is sane, and finally secured. District attorneys who advocate for low or no bail for multiple offenders and lenient judges must be replaced by an Attorney General and Governor who believe in the rule of law, not social justice nonsense. We need to have the courage to make these choices in November and begin pulling out of the societal & crime spiral we are in.
You can back the badge and be pro law enforcement as I am – and for the rule of law, as I am – and vote NO to Resolution 27.
Very Sincerely,
Ken Mikulec
County board supervisor, District 10, Hartford
_______________________________________________________________
Disclaimer: Opinions and letters published on https://www.washingtoncountyinsider.com are not necessarily the views of the Editor or Publisher. The https://www.washingtoncountyinsider.com reserves the right to edit or omit copy, in accordance with newspaper policies. Letters must be attributed with a name, address, and contact phone number – names and town of origin will be printed or may be withheld at our discretion. During the course of any election campaign, Letters to the editor dealing with election issues or similar material must contain the author's name and street address (not PO Box) for publication.
Please also note:
COMMENTING
WCI COMMENTING RULES OF ETIQUETTE: While open and honest debate is encouraged here, Washington County Insider asks that you comply with the following rules for posting. Those who do not comply will have their posts removed and may result in being banned from commenting.
In an effort to provide a great experience and be welcoming to everyone, Washington County Insider will not publish comments and reserves the right to remove posts on social media/Facebook that doesn't adhere to the guidelines below.
Are considered likely to provoke, attack or offend others. This is known as "trolling." Trollers know when they are trolling, and so do we. *See the definition of "troll" below. If you notice a few consistent blog trolls disappear, you'll know why.
Are sexually explicit, abusive, or otherwise objectionable.
Contains inappropriate or vulgar language that is likely to offend.
Break the law or condone or encourage unlawful activity. This includes breach of copyright, defamation, and contempt of court.
Advertise products or services for profit.
Are seen impersonating someone else.
Repeatedly post the same or similar messages ('spam')
Include personal contact details such as telephone numbers and postal or email addresses.
Include a link or photo that has not been approved by the editor prior to posting.
Are considered campaigning. See also "trolling" above.
Are unrelated to the topic.
NOTES:
Just because your comment doesn't show up right away doesn't mean you're being censored. When you post a comment it must first go through our filtering software. If it fails, your comment goes into a queue for manual approval.
Just because a comment or advertisement is on the site, doesn't mean WCI endorses it.
The above rules are not intended to stop criticism or dissenters, but rather to stop those who are incapable of participating in a civilized manner.
*Trolling: a troll is a person who sows discord on the Internet by starting arguments or upsetting people, by posting inflammatory,[1] extraneous, or off-topic messages in an online community (such as a newsgroup, forum, chat room, or blog) with the intent of provoking readers into an emotional response[2] or of otherwise disrupting normal, on-topic discussion,[3] often for the troll's amusement. (source: Wikipedia)