September 26, 2022 – Washington Co., WI – The Washington County Human Services Committee/Board will meet Wednesday, September 28, 2022 at 4 p.m. and one of the action items is the Future of Samaritan Campus presentation.
According to the county website: "Since first opening its' doors in 1968 as a stand-alone nursing home, the campus has grown to include a wide array of service offerings.  The Samaritan Health Center has 131 skilled and Medicare certified nursing home beds including 119 private rooms and four specially equipped rooms for bariatric clients.
Samaritan Campus serves the needs of Washington County citizens as they age and have health, housing and rehabilitation needs.
Should Washington County remain in the business of long-term care and if so, which option would the Washington County Board approve to pursue. Click HERE for the full agenda item starting at page 23.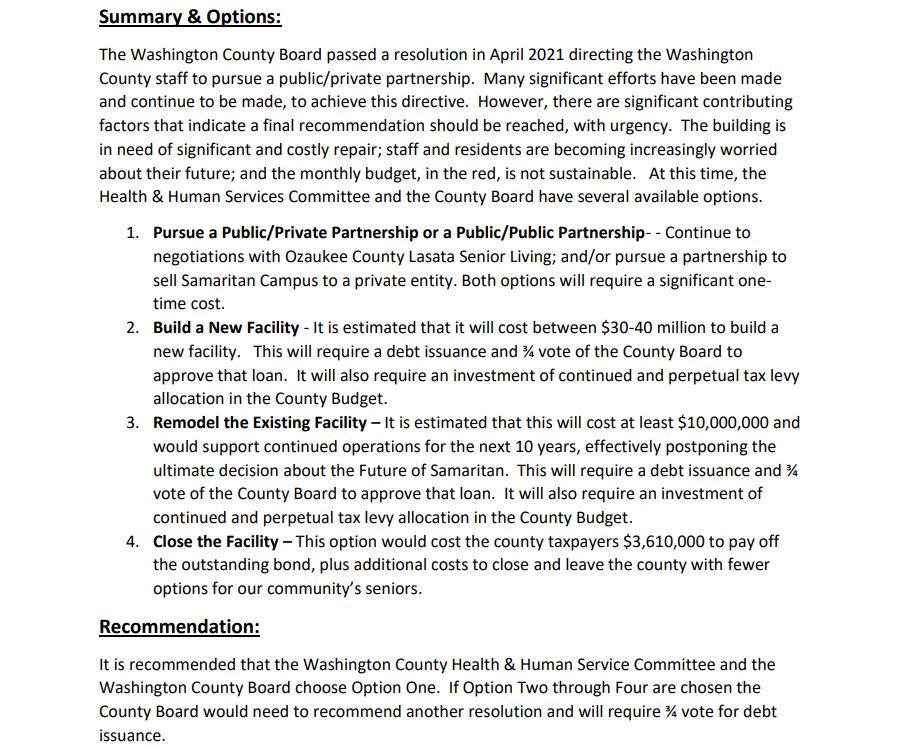 A couple bullet points on the agenda:
– Census: The Samaritan skilled nursing facility is licensed for 131 beds. In 2022 and
2023, the budget supported 75 beds. Due to admission requirements during the
pandemic, and staffing shortages, Samaritan has consistently remained between 58-62
beds at any given time. This has significantly affected the bottom line of the Samaritan
budget, creating a shortfall for 2022 and 2023. This means the projected need for a
$500,000/year tax levy commitment in a five-year timeline has accelerated and the need
for tax levy subsidy is immediate. In the current facility, with current staffing needs, the
reality is the amount could far exceed $500,000.
– Ozaukee County, Lasata Senior Living Campus – OPEN – In May 2022, Washington
County initiated discussions with Ozaukee County to pursue a public-public partnership
between Samaritan and Lasata Senior Living Campus. A formal offer was made to
Ozaukee County on August 1, 2022 and a counteroffer was received on September 1,
2022. Negotiations are currently ongoing.
-In 2021 the Samaritan Task Force offered a recommendation to continue to provide long-term care services. See the full recommendation below.

Click HERE to SUBSCRIBE to FREE local news at
Another item on the agenda is to use $1 million in development of a sober living home. "Sober Living/Transition Living for both men and women, with a greater need/desire
for women's services."  Click HERE to read full agenda with sober living starting at page 15.