March 8, 2021 – West Bend, WI – It was 10 a.m. Saturday morning and the hum of a chainsaw and crack of a hammer could be heard echoing through Regner Park.
A small team from the West Bend Baseball Association was hard at work salvaging what it could of the grandstand at Carl M. Kuss Field. The wrecking ball will arrive Monday, March 8 and the WBBA wanted to harvest some of the old lumber and craft it into memorabilia for a fundraiser.
Over a tight two-hour timeframe five members of the WBBA took apart a portion of the grandstand and shared some of their favorite memories.
"I've been coming here since I was a kid," said Judge Andrew Gonring. "My favorite memory is watching the old West Bend Lithia's." Gonring also mentioned the high school games and state tournaments.
"The grandstand has a lot of history having been at the old Washington County Fairgrounds," he said.
Gonring walked away with a meaty plank of wood. He said he would turn it into a piece of furniture one day.
Longtime scorekeeper Dave Yach helped with the salvaging effort. "My son played a lot of games for West Bend West High School. I kept the scorebook and have a lot of memories of the baseball games," he said.
Summer of 1999 a sectional game between West Bend East and Campbellsport was a memorable one for Craig Larsen. "We were down in the seventh inning and Mike Miller hit a homerun to centerfield and that helped propel us to the win," Larsen said.
Bob Meyer remembered coming to the park with his friends when he was about 8 years old. "We'd grab the cases from the concession stand and get the empty beer bottles in the stands because they were all returnable back then and we'd take them back and at the end of the game we'd get a soda or a quarter," he said.
Kraig Sadownikow remembered throwing a 5-gallon bucket of balls over the fence and hitting with his friend before a game West Bend East vs. West Bend West.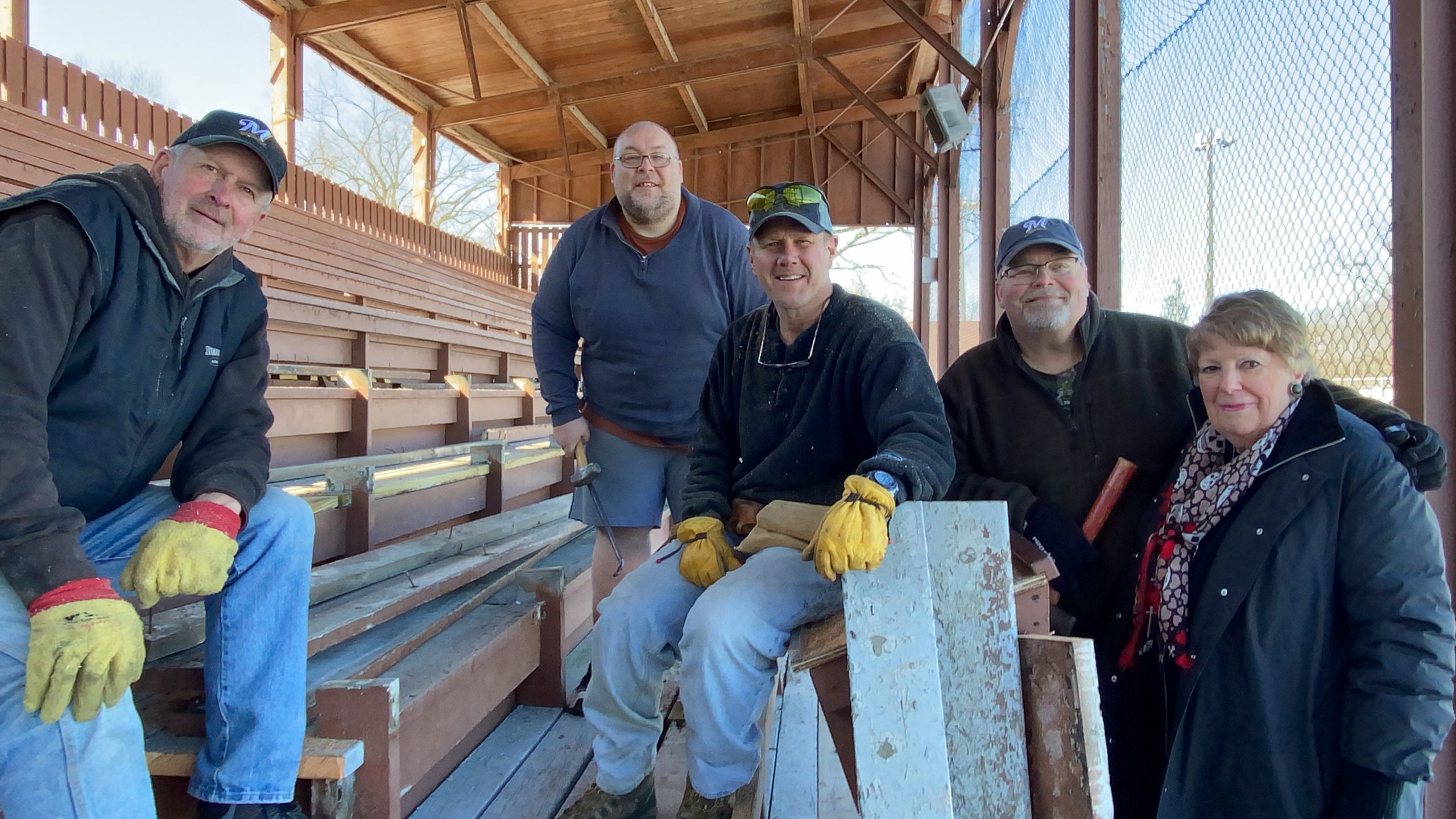 Prudy Pick Hway's family helped save the grandstand and relocate it from the old Washington County Fairgrounds. "I just remember this has always been here," said Pick Hway. "I remember coming here with friends… and boyfriends."
Below is a segment of the history posted on the WBBA website of the grandstand and its ties to the Fair Park. "West Bend's Boys of Summer" was written by Catharine Lawton.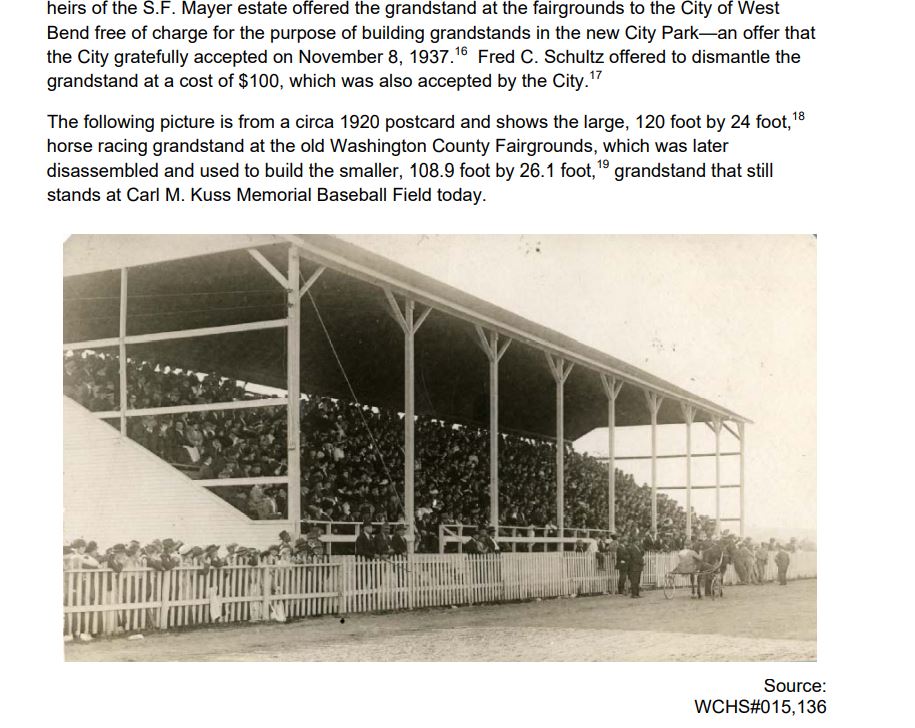 Neighbors in West Bend also chimed in with their memories:
Paul Schmidt –
I was the first to announce or be the PA announcer for high school baseball for high school baseball there. Carrying the equipment in & out to the car was a workout but hopefully at the end of the day I touched the players, coaches, and fans hearts and hopefully a sound system will be included in the renovation so those hearts can be touched for years to come.
Jerry Fellenz –
Playing ball there for Mr. Kuss in High School. Also watching Mark Mayer and Hillary Martin knock um out of the park….
Lisa Renee Hall –
Working the concession for all home West Bend Company/7-Up games! Our daughter, Kaitlyn was born into baseball. The fans were her second family. So many amazing memories and friendships made!
Mike Howard –
Taking a home run away from Jim (Gumby) Gantner in 1971
Alan Gumm –
My Uncle Henry Gumm played baseball there back in the early 1940's.
Once the grandstand is removed construction will begin on a $1.5 million project to remodel Carl M. Kuss Field. The work will be done in phases starting with a new 521-seat grandstand and synthetic turf infield.
Phase 2 would include field lights and storage and Phase 3 would refurbish the restrooms.
"There's still a passion for baseball and a passion for Regner Park," said WBBA member Kraig Sadownikow. "Thanks to Craig Larsen, Prudence Pick Hway and others we've raised close to $1.5 million for a pretty exciting project."
On Wednesday afternoon, March 3, 2021, nearly three years after the project began, organizers saw a light at the end of the fundraising tunnel with about $350,000 needed to finish the project.
Organizers feel once the project is underway more people would be inspired to donate to help see the updated field come to fruition.
Prudence Pick Hway said the goal was playing ball in West Bend.
H&H Civil Construction from Collins, WI will be doing the work along with J.W. Industries out of Green Bay.
Pick Hway, a longtime supporter of the WBBA, said it was a "bittersweet moment."
When the demolition begins Monday, March 8 the old grandstand will head to the chipper and be turned into mulch.