Washington County, WI – Have you always wanted to learn to make soap? Worried about working with Lye? There are still a few open spaces for Century Farmhouse's Handcrafted Artisan Soap-Making class with Anne Marie Craig at Open Wings Studio at Cedar Valley Retreat Center, 5349 County Road D, West Bend, WI. The class takes place on Saturday, November 25, 2023, from 10 a.m. to 3 p.m. Sign up today.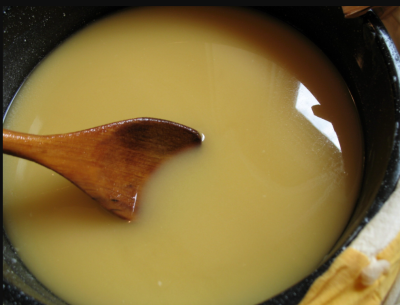 Now you can create your very own batch of handcrafted soap while learning the cold process method (almost the old-fashioned way!) of soap making. Using a kit that we put together just for you, you will craft a batch of soap that can be cut into bars and used for months to come.
Here are the details:
You are invited to make soap. Century Farmhouse would love to have you join us. Everyone who attends is considered a participant, so if you'd like to take the class with a friend, please register separately.
Click HERE to follow Ann Marie Craig at Century Farmhouse Soaps
We'll be making soap using organic and sustainably produced ingredients. You'll work with solid fats, liquid fats, and essential oils. You'll learn a bit about recipe creation, and you'll learn troubleshooting tips and tricks that will help your future soap-making projects more successful. You'll make a block of soap that is about 2 lb. in size (about 4 cups in volume). The soap will rest at Cedar Valley until Monday, November 27, after which we'll make arrangements to either get the soap to you or ship it to your house. You'll cut the soap at your house, using videos that will walk you through that process.
The soaps will need about three weeks to cure properly; your lovely new batch of soap will be ready to use by December 15 and beyond.
Think about it! You'll learn a new life skill with lots of supervision. The venue is beautiful – 100 acres of lovely rural Wisconsin land surrounds the Retreat Center – so there's lots of fresh air to breathe and relax in. Century Farmhouse would love to have you join us – bring a friend!
What's included: Century Farmhouse provides all the equipment and the ingredients and materials needed to make a batch of soap. Lunch is also included.
What you need to bring: – Soap making can be a messy business, so don't wear your best clothes. Dress comfortably. Other things to bring: an apron, gloves such as Playtex or Nyplex kitchen gloves to protect your hands and wrists, a KN95 mask or a similar mask that will help protect you for the brief time around mixing the lye solution, and safety glasses.
And bring a smile. Soap making is a lot of fun. CLICK HERE to sign up today.