May 16, 2019 – Washington Co., WI – As two Veterans and their spouses prepare to walk nearly 40 miles across Washington County on Memorial Day weekend, country music legend and outspoken patriot Charlie Daniels has recorded a public service announcement to promote the effort.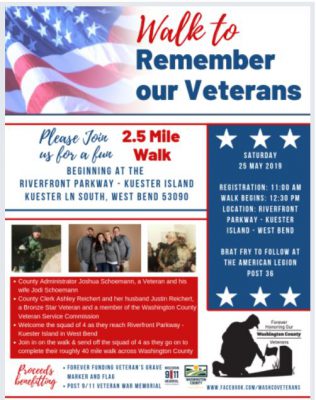 Daniels has long used his stage to support the military and Veterans throughout his more than six decades in the music industry. In 2014, Daniels founded the Journey Home Project to help Veterans of the United States Armed Forces.
Throughout Washington County, there are over 6,000 Veterans laid to rest in 97 cemeteries. Each year, Veteran service organizations and other volunteers decorate these grave sites with American flags. Washington County is creating an endowment trust fund to ensure we forever honor our Washington County Veterans every Memorial Day weekend.
Additionally, Washington County leaders have secured a partnership with the Wisconsin 9/11 Memorial: Kewaskum Remembers to place a monument honoring Veterans of Iraq and Afghanistan in Kewaskum. The memorial was designated in January as the official 9/11 memorial for Washington County.
To kick off the efforts, on Saturday, May 25, County Administrator and Veteran Josh Schoemann and County Clerk Ashley Reichert will be joined by their spouses Jodi Schoemann and Justin Reichert, a Bronze Star Veteran who serves on the Washington County Veterans Service Commission on a nearly forty mile walk across Washington County. Josh and Justin will carry 22 pounds to symbolize the 22 Veterans lost each day to suicide.
Schoemann & Reichert have been raising corporate funds for the causes and have secured over $110,000

While the group will trek from Southwest to Northeast Washington County, the public is invited to walk with them on the Eisenbahn Trail within the City of West Bend.
For a Walk to Remember our Washington County Veterans, walkers will assemble at the Riverfront Parkway – Kuester Island at 11 a.m.
Click HERE for more details.