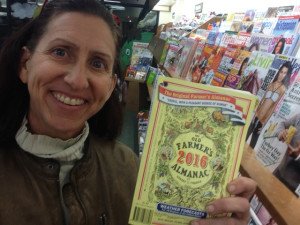 As neighbors around West Bend debate whether to turn on their heat, let's take a peek at the Old Farmer's Almanac to see what's in store for the wintry months ahead. The 2016 Farmer's Almanac marks the publication's 224th anniversary and features daily weather predictions and climatic trends for each season.
According to the region forecast in the upper Midwest, "winter will be much colder than normal, on average, with above-normal precipitation. Very cold weather will be from late December through early February with the snowiest periods in late November, late January, and mid-March."
The Harris' Farmer's Almanac says the "best chance for snow and rain in the north and mainly rain in the south is November 1-2, 9-11, 15-17, and 26-28. Back on Oct. 10, 2009, West Benders saw their first snow of the season with a bit of a flurry around 11 a.m. The early forecast for the Nov. 29 West Bend Christmas Parade looks to be cloudy and windy with isolated showers.
Staying true to the Almanac motto "Useful, but with pleasing degree of humor" the book includes features on "The biggest moon of our lives, 10 peculiar 'Laws' that explain everything, and The most Dangerous Woman in America – Typhoid Mary." The Winter Solstice or the first day of winter is Dec. 22.