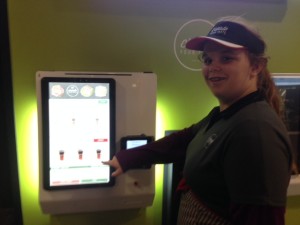 The McDonald's in Jackson has a self-serve electronic kiosk in the house. The Golden Arches on Highway 60 is one of a select few nationwide to test the digital kiosk. A simple touchscreen provides easy-to-read instructions to place an order make a payment and then wait for staff to deliver.
The touchscreen is relatively easy to figure everything out as it's very similar to the self checkouts at the grocery store. The clerks said the most confusing part of the process has been the option to add or remove certain items from a burger in the "Create Your Taste" selection.
An article in Business Insider said "McDonald's is not planning to pare down its work force as it adds the new kiosks to restaurants." The article said, "The kiosks could, however, allow operators to move some workers away from cash registers and into the kitchen to help speed up customer service. That could provide a major boost to franchisees who say they are understaffed and unable to handle busy meal traffic."
There is no cost to use the kiosk and the turnaround time for my order was just as fast as going to the counter and ordering.