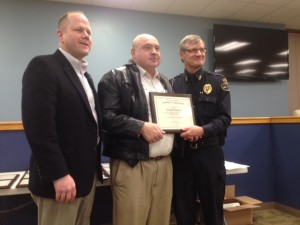 West Bend police and the city of West Bend recognized good citizens in the community this week with certificates of appreciation.
David Uttech was recognized for helping an elderly man who had health concerns during a walk.
On March 11, 2015, Mr. Uttech contacted the Police Department regarding an elderly male subject leaning against a tree in Mr. Uttech's wooded and steeply hilled backyard. Mr. Uttech cautiously approached the man to inquire if he was ok.
The man told Mr. Utteck that he had gone on a short walk in the wooded area, got lost, and due to the wet steep ground was unable to regain his footing to find his way. Police and Fire responded and were able to assist the male up the hill to a waiting ambulance. The man was ultimately transported to the hospital for further treatment. Mr. Uttech is commended for his willingness to get involved. His actions helped ensure the man did not suffer serious injury.