Closer look at the future property for Pizza Ranch in WB
A couple more details on the Pizza Ranch deal which will be addressed in more detail Tuesday, Oct. 4 at the West Bend Plan Commission meeting.
The popular buffet restaurant moved less than a mile east of its previous location. The move occurred after PRWB LLC purchased 1.7 acres of property and then sold it less than two weeks later to Steve Kearns for a $200,000 profit.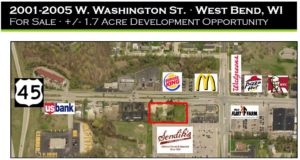 Stacy and Matt Gehring are the couple behind the franchise. Stacy's parents have own and operated a Pizza Ranch for 22 years. The development of a new $1.65 million Pizza Ranch was first approved in June by the Plan Commission and quickly approved by the Common Council.
Below are real estate details on the new 1.7-acre parcel located just west of 18th Avenue on Highway 33 in West Bend.
The new parcel for a Pizza Ranch is located on W. Washington Street; the property is currently green space. It is on the south side of the road, just west of First Bank Financial Centre and just east of Hankerson's Country Oven Bakery.
Adam Williquette from Anderson Commercial is overseeing the sale of the property.
Although the purchase has yet to close, the Gehrings have indicated they would like to break ground in October.
Jim Reinke, Business and Development Planner at West Bend, said the Plan Commission will look to approve the site plan and the Certified Survey Map. The plans for the property are similar to what was being proposed for the lot further west except the parking will accommodate about 100 stalls and the other site had 108 stalls.
"This property is made up of three consecutive properties," said Reinke.
Plans indicate there will be a right turn into the restaurant and a right turn out onto Highway 33. At this point in time no additional turn lane is planned.
The Pizza Ranch franchise, based in Iowa, is described as, "Buffet Your Way" which means "you can request any pizza you want and we'll not only make it for you, we'll personally deliver the first slice to you! Now that's legendary service!"