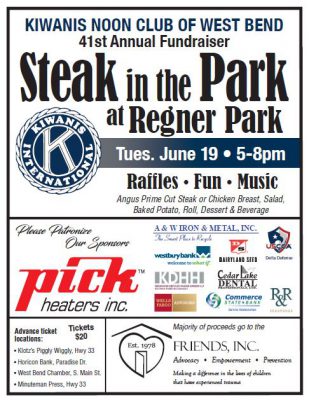 West Bend, WI – The annual Noon Kiwanis Steak Fry at Regner Park will soon be in full swing. This is the 41st annual Steak in the Park fundraiser. Tickets are available at the door. 
Proceeds will be generously designated to Friends Inc..
There will be steak or chicken dinner, raffles, music, fun for only $20 per person. 
Tickets are available at The Threshold Inc., 600 Rolfs Avenue in West Bend and at Horicon Bank in West Bend.
Please call the Threshold for more information or reserve your tickets today, 262-338-1188, extension 0.
Thank you for supporting our local children. Hope to see you there.