Cedarburg, WI – Join the Bell family at the 18th annual Hunt for a Cure for MS at Circle B in Cedarburg is Saturday, February 1.
Proceeds benefit the hunt to cure Multiple Sclerosis
Raffles, live and silent auctions, games, food and more!
This year's fundraiser features 200+ prizes, include over 20 guns, tools, sports tickets & memorabilia, hunting & fishing gear, meet, wildlife prints, and more.
Food and beer are included with paid admission. $25 admission per person, children 12 and under are free.
Event Reception- Food, games, raffles, auctions: 11:30 a.m. – 5:30 p.m.
Hunter Registration: 11:30 a.m.-12:30 p.m.


On a history note: The hunt started in a garage in Saukville and to date it has become one of the most popular fundraisers for multiple sclerosis in Wisconsin. The humble family of Don, 88, and Eileen Bell, 87, are the force behind the effort.
The Bell Family Rabbit Hunt began in 2002.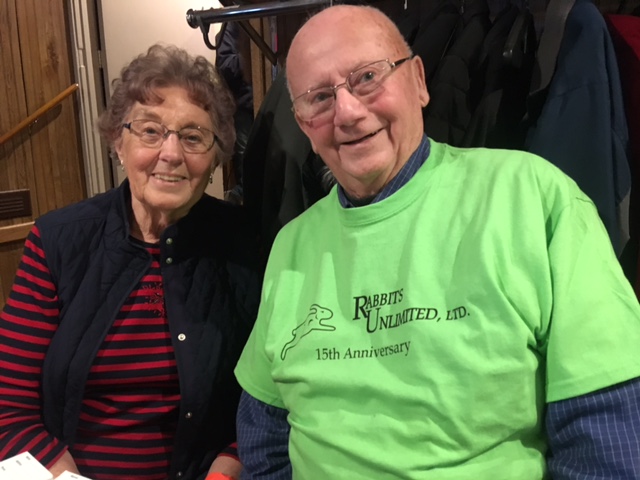 "It started because of our two children that left this earth early," said Don. "Marge and Rich were both devastated by multiple sclerosis and at that time there were no drugs for it. Now at least there is stuff that can control it and slow it and people are at least a little more comfortable rather than being so debilitated and bedridden."
The Bell family includes seven children: Margie, Janet, Richard, Gordon, twins Ann and Alan and Brian.
"Margie was our oldest and she came down with MS first when she was a student at UW-Oshkosh," said Eileen. "Her first symptoms were when she was 20 years old."
Marge left college, married her boyfriend and after she had her first son, she developed more symptoms. In 1979 she was diagnosed with MS, a disease of the central nervous system.
"The body starts to attack itself and the nerves to the muscles start to sort of short circuit," said Eileen. Doctors told the Bell family the disease was not hereditary.
Rich, the third oldest son, started developing symptoms when he was 27 years old. "Rich was very athletic and he would fall and he blamed it on the concrete sidewalk and it was really toe drop," said Don. "He went to Madison for an MRI and they found lesions around the brain."
The Bell children had MS at the same time. Rich returned home in 1991 and died in 1999. Margie passed away in 2003.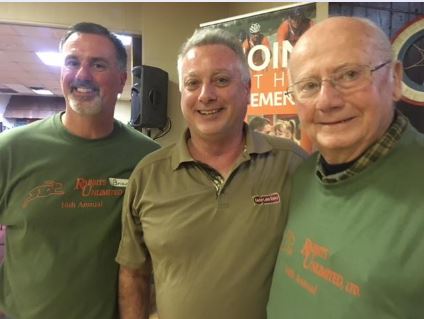 Don said the idea of holding a fundraiser was hatched following a rabbit hunt in Saukville.
"My nephew called and told me to come to Saukville and go rabbit hunting," said Don. "My brother Jerry went along and we were sitting in the garage drinking beer and talking smart and the word fundraiser came up. I suggested we do it for MS and boom it got started."
The first family hunt was a neighborhood thing. "We were in a garage for two years and we made $10,000 in one year," said Don. "I'm not kidding you; they auctioned off empty paper boxes to meet the goal. They knew they were empty but they bid on them and we raised money for MS."
After outgrowing the garage and shed the Bell family moved the event to the Railroad Station in Saukville. For 15 years the fundraiser was held there until it moved again in 2018 to Circle B Recreation in Cedarburg.
"We had 300 initially turn out and now we're up to 500," said Don Bell. "It's almost $400,000 that we made for the Wisconsin Chapter of the MS Society."
Families and friends from Madison, Green Bay and Eau Claire make up a majority of those in attendance along with people who have experienced MS.
Proceeds from the Rabbit Hunt Fundraiser are divided between research ($50,000 annually), helping people with mobility issues and student scholarships. "If families affected by MS can't afford education for their children, we help provide scholarships for them," said Eileen.
"This year we're putting $3,000 into one scholarship," said Don.
The day of the hunt
The day begins with three-person teams hunting anywhere in southeastern Wisconsin where hunting is permitted before arriving Circle B Recreation from 11:30 a.m. – 5:30 p.m.
Fifty teams took part in the 2015 event, which raised $50,000 that was donated to MS. The funds came from the $225 team registration fees for the hunt and from general donations, although a large percentage was donated by proceeds from auction items and sales of raffle tickets.
Team names are part of the fun including: Briar Patch Bandits, The Haasenpfeffers (with the Haas family) and Hare Today Stew Tomorrow.
"In 2018 we had 235 rabbits," said Don. "Nothing goes to waste and everyone gets a prize because we have so many prizes donated."
Don brings out several 5×7 photos which show hundreds of rabbits strung on a line.
Most teams take their rabbits with them and those that are left are processed free of charge by a man in Grafton who cleans them and sponsors a meal for hunter education classes. "He also makes sausage and that goes to the Lasata Nursing Home in Ozaukee County," Don said.
Hunters, along with family and friends, then spend the afternoon enjoying food, beverages, games, music, raffles and auctions. "People donate items and the gun raffle is really big," said Don.
"Our granddaughters put on bunny ears and they walk around the room selling raffle tickets," said Eileen.
One year Don won a boat cover, which was a little ironic since he owns Cedar Lake Sales and Service in West Bend.
"This little boy and his dad came by me and said, 'That cover would fit our boat and how much do you want for it?'" said Don. "I gave that to him along with an anchor. It just made his day."
The Bell family believes it is making an impact on research and so does the MS Society. "We just received a plaque for the biggest and most unique fundraiser in the state," said Eileen. "We are leaving a legacy and we have the deepest appreciation for the volunteers and the generosity and support to make an impact on the lives of many individuals affected by MS."
About Multiple Sclerosis
Multiple sclerosis is an unpredictable, often disabling disease of the central nervous system that interrupts the flow of information within the brain, and between the brain and body. Symptoms range from numbness and tingling to cognitive challenges, blindness and paralysis. The progress, severity and specific symptoms of MS in any one person cannot yet be predicted, but advances in research and treatment are moving us closer to a world free of MS. Most people with MS are diagnosed between the ages of 20 and 50, with at least two to three times more women than men being diagnosed with the disease. MS affects more than 2.3 million worldwide, including more than 11,000 children, women and men in Wisconsin – believed to be one of the higher prevalence rates in the nation.