Community leader Doug Ziegler has died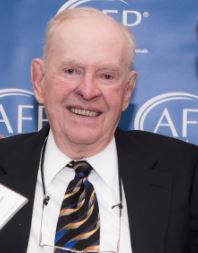 It's with a heavy heart to relay the news that Doug Ziegler died this Saturday morning.
Ziegler was a 'Godfather' of the community with his philanthropic goodwill, leadership and community support.
"Doug was quite determined and dedicated to persevering to what ever a group's goals might be," George Prescott said.
Prescott is a local business man and owner of GP Management Services in West Bend. He relayed the story about when he and his wife Judi were starting the Prescott Family Foundation and how Ziegler was the guest speaker at the kickoff meeting.
"He came in and gave us a talk on the 'joy of giving,'" said Prescott. "The joy of giving and how nice it makes you feel to help people. It was a very stimulating piece of work and that was almost 20 years ago and he was the same driving guy up until yesterday."
About 20 years ago Prescott said he also received a call from Ziegler during the fall of a presidential election year. "He wanted me to come to his office and I had a pretty good idea he was going to ask for money," said Prescott. "The election was a big deal and he went after me for more than I thought I would, or could or should pay but he was successful and I sent some money out on his and my persuasions. It just showed the power of Doug."
Amy Johnson, director of philanthropy at Cedar Community, worked closely with Doug Ziegler for years.
"Doug was an amazing man who loved giving back to the community," said Johnson.  "Cedar Community has had two major fundraising campaigns and Doug was at the helm as chair for both of them.  The Nurturing a Vision Campaign held in early 2000's raised a total of $3.2 million to support new projects and needs in the community.  Our Home Health and Hospice was started with the help of these funds.
"Just recently Doug agreed to be honorary chair of our Moments to Remember Campaign to raise funds for the Cottages at Cedar Run, our 60-unit memory care facility.  He agreed to do this but "would not attend any meetings or events."  In true Doug nature, he attended every meeting and event.  The goal was to raised $3.7 million and last January we celebrated the successful conclusion by announcing little over $4 million raised.  I am truly blessed to have had the opportunity to work with such a great teacher, coach and mentor.  He will truly be missed."
There have been a long list of accolades for Doug Ziegler and his family business, The Ziegler Company. He was primarily recognized for his support of education.
In November 2015 he and his wife Sharon received the William C. Frye Award for helping provide scholarships to local students.
In 2014 Ziegler, received the award for Outstanding Volunteer Fundraiser by the Association of Fundraising Professionals (AFP).
A write up in 2014 by Cedar Community reads:
Since his public service began in 1954 working with the West Bend Community Chest, an extension of the United Way, Ziegler has served more on more than 40 different corporate and nonprofit board of directors. Today, at the age of 87, he is still co-chairing the fundraising drive for the United Way of Washington County, as well as a $3.7 million campaign for Cedar Community, a nonprofit retirement community.
Early in his philanthropic career, Ziegler helped to establish the Blood Center of Wisconsin as a world-renown organization through his personal fundraising and recruitment of top business leaders. Then in 1972, while serving as a trustee of statewide college, he helped save the Milwaukee School of Engineering from bankruptcy by raising $1.8 million. He was also the co-founder of the West Bend Community Foundation and helped start the organization with a $1 million grant. Doug has also lead major fundraising efforts for the Nature Conservancy-WI Chapter, Ripon College and Riveredge Nature Center
Ziegler's philanthropy is inspired by his family. For almost 70 years, the Ziegler Family Foundation has provided nearly $12 million for scholarships for almost 300 students, and he has inspired the next generation of Zieglers to get involved as well.
"Giving time and financial resources to deserving philanthropic organizations is one of the most rewarding things I have ever experienced," Doug Ziegler said.
Doug Ziegler was 89. Funeral arrangements are pending