West Bend, WI – Do you have a laptop or desktop that is running slower than you like? Check out Collett Systems, 419 S. Main Street, in West Bend.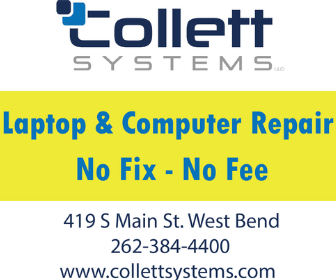 Collett Systems is offering malicious software removal, tune up, and upgrade your old "spinning disk" hard drive to a faster more reliable solid state disk for as low as $175.50 (250gb SSD)
Collett Systems recently upgraded a couple 5-year-old laptops and 7-year-old computers for clients and they're running better than new.
If there's No Fix – No Fee at Collett Systems in West Bend.