November 3, 2021 – Slinger, WI – Slinger School Superintendent Daren Sievers sent a note to parents today announcing he was stepping down from his position after 27 years in education and 9 as superintendent.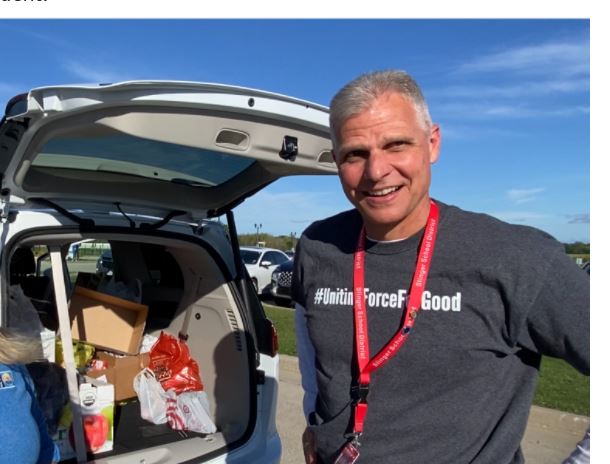 During a one-on-one conversation Sievers, 50, said this was a difficult decision. Sievers was extremely humble, as he never wanted a story in the district to be about him.
"I love Slinger so much and I'm really struggling to leave," said Sievers. "I've put everything I've had into this job and I'm making the decision because of my kids. I need to reassess my pace and my work load and look into other opportunities."
Sievers felt by making the announcement now the Slinger School Board will have enough time to conduct a thorough candidate search. "I want the district to move forward in a seamless fashion," said Sievers. "This decision in the best interest of the District and my family."
Staying in the education is what Sievers would like to do. "Something in that capacity that would allow me to focus a little more on my health," he said.
Sievers letter is below.
I am writing to you today to let you know I will be resigning from my position as Superintendent at the end of the 2021-2022 school year.  This was a very difficult decision for me that comes with extremely mixed emotions. For the past two years I have been managing an epilepsy diagnosis that makes me prone to seizures and has made it increasingly difficult for me to be my best for the Slinger School District and manage the demands of the job I love so much.
Recently I experienced a set-back that has made it necessary for me to make a decision that is best for my long-term health, Slinger Schools, and my family.  By announcing this now I want to empower the Slinger School Board to begin succession planning immediately so they can select my replacement in a timely manner that provides a smooth and thorough transition.
The past 27 years working for Slinger Schools and most recent 9 years serving in the role of superintendent have been an immense blessing.  This small town boy from Minnesota will be forever grateful for being so warmly welcomed by the Slinger community and for the opportunity to work beside our amazing staff under the leadership of our strong and supportive school board. My personal plans will be to continue to live in Slinger as this has become home for me and my kids.  I will continue to give this school community my best over the next 8 months and cherish every moment until I wrap up my time  working for the Slinger Schools at the end of June.
With immense gratitude-
Daren Sievers
Superintendent