April 20, 2019 – West Bend, WI – Tabetha Wolfe of West Bend is helping bring awareness to multiple sclerosis (MS) via the 
MS Run the US
. "The run is dedicated to raising awareness and funds to support multiple sclerosis (MS) research, while also supporting those living with disability due to MS," said Wolfe.
On Monday, April 15, Wolfe started Segment 2 of the MS Run the US relay across America. She will be running a marathon a day for eight days (204 miles) from Barstow, CA to Las Vegas, NV.
Below is a story from Wolfe about her fifth day on the road.  Click HERE to read more about her motivation to take part in MS Run the US.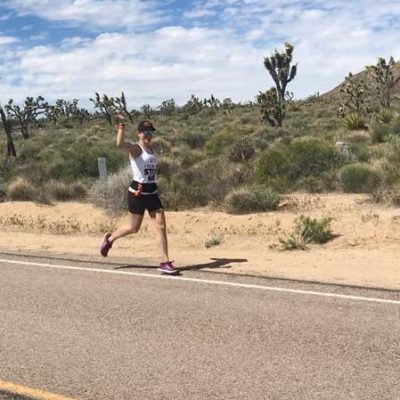 Day 5✔ 28.31 miles today for a total of 140.9 miles
The sky was beautiful this morning! As Will put it, "It likes like something you do art class." This was a very welcome site considering the terrain I knew I had to cover today. A 20-mile climb with over 2,000 feet elevation gain. 
 But Peter reminded me it isn't going to be any worse than yesterday…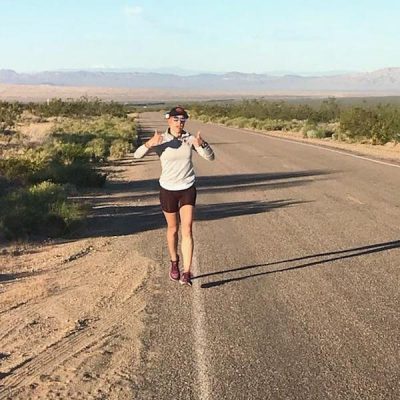 Normally I read everyone's inspirational messages on the way to my starting point but this morning I was not able to…we had no cell service through the night or all day in the desert. So I imagined what people would have texted me and hit the road. Some of you wrote me some pretty funny stuff!
Today started slow and steady, as I knew I had a lot of hill to climb. It was a grind but meeting up with the crew every three miles made it much easier. Peter and Will are amazing. They always seem to know exactly what I need at each stop. 🧡
When times got tough I remembered I would tell myself people suffer on a daily basis from the effects of MS, mine will only be temporary. I also reminded myself in a few short hours my family was coming to visit me in Primm, missed my girls!
So after a 20-mile climb I finally hit the down, let's say it was a amazing, I even ran some sub 8-minute miles!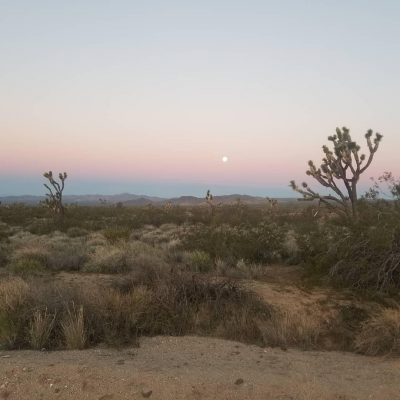 I have 12ish miles left in the desert, it will be bitter sweet as it is a truly beautiful place. Plus I would have never guessed there was that much elevation change in a desert.
Until tomorrow…I will have company the next couple of days from my husband Dean and brother Thaddeus Bath.
Stay tuned as Tabetha will be filing regular updates about her 204-mile journey. If you want to help 
support MS click HERE