Discover Moraine Park – tour campuses in Fond du Lac, West Bend and Beaver Dam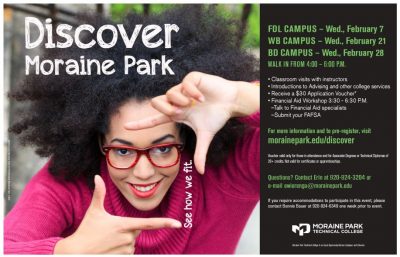 Washington Co., WI – High school students, displaced workers and people looking to change careers are encouraged to attend a special upcoming event at any of Moraine Park Technical College's three campuses. The event – Discover Moraine Park – is designed to help attendees jump-start their education and career.
Discover Moraine Park will be held on Wednesday, Feb. 7, at the College's Fond du Lac campus; Wednesday, Feb. 21, at the West Bend campus and Wednesday, Feb. 28, at the Beaver Dam campus. Participants may stop in anytime between 4 p.m. – 6 p.m.
From getting hands-on with a virtual welder and trying out culinary samples to stepping into ambulances, participants will be able to discover different programs of study offered at the College and tour the campus, labs and classrooms at their own pace. Along the way, program instructors and staff will be available to answer questions.
"This event is very popular as it gives people an opportunity to 'try it before they buy it.' Those in attendance get to experience what happens inside the walls of our classrooms," said Erin Wierenga, Moraine Park recruitment specialist.
And, while representatives will be on-hand to explain program details, admissions requirements, scholarships and more, the event is also designed to familiarize attendees with resources outside the classroom, including diversity relations, student life, veteran resources, tutoring, counseling and more.
One-on-one assistance from Financial Aid specialists will also be available to help attendees submit their FAFSA. This service is available anytime between 3:30 p.m. and 6:30 p.m. on each of the designated Discover Moraine Park evenings.
As an added bonus for participants of Discover Moraine Park, attendees will receive a $30 application voucher, valid toward an associate of applied science degree and/or technical diploma (28+ credits). Photo ID is required.
For more information about the event and to register, visit morainepark.edu/discover.
Discover Moraine Park night on Wednesday, Feb. 21 from 4 p.m. – 6 p.m.
Click HERE for more info.
This event happens twice a year and provides the public a great opportunity to check out the campus, meet faculty, experience the classrooms and labs and so much more.