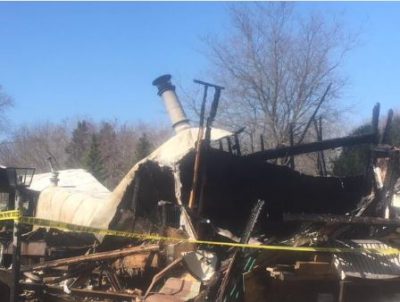 April 30, 2018 – West Bend, WI – A dog is being credited for helping save two people early Monday morning as a fire raced through their trailer home on River Road.
West Bend Fire Chief Gerald Kudek said the call came in around 1:46 a.m. for a home at 6931 N. River Road, just south of Lake Lenwood.
"The dog is the hero," said Kudek. "The dog woke them up. He nibbled at the owner's hand until the person woke up."
Two adults were in the home at the time. They all escaped safely. The cause of the fire remains under investigation.
"We're going back this morning to finish the investigation," said Kudek.
Assisting at the scene along with West Bend Fire were crews from Jackson, Allenton, Newburg, Kewaskum, Kohlsville.
Because of the remote location water had to be hauled to the scene. Crews were on scene about 4.5 hours. "We had it under control but we wanted to make sure it did not rekindle."
The trailer home has been deemed a complete loss.
There also was some damage to the trailer to the east of the fire. Everyone was OK and able to live in that home.
On a side note: Although the two people in the trailer got out safe, they are in need of assistance. We'll bring you more information when it becomes available.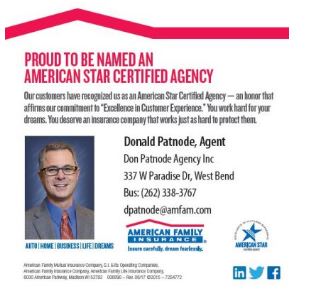 Below is the release from the Washington County Sheriff.
On 4/30/18 at approximately 1:11 a.m. the Washington County Sheriff's Office was notified of a trailer home on fire at 6931 N. River Road in the Town of Barton.
The fire was reported by a neighbor who was awoken by a loud noise and looked outside and noticed that the trailer next door was on fire.
The neighbor called 911 and ran over to the house to attempt and extinguish the flames which were concentrated on the porch area. The two occupants of the trailer were awoken by their dog and they as well as the dog were able to safely evacuate.
There were no working smoke detectors in the trailer.
The trailer and all of his contents are considered a total loss. A second trailer also suffered damage as a result of this fire however firefighters were able to save that trailer.
The West Bend Fire Department was assisted by the Allenton, Jackson, Kewaskum, Kohlsville and Newburg Fire Departments.
The American Red Cross is assisting with the displaced residences.
The cause of the fire remains under investigation by the Washington County Sheriff's Office and the West Bend Fire Department however it does not appear to be suspicious in nature. There were no injuries as a result of this blaze.