Donation made in name of Brent Allen Schultz | By Brian Oelhafen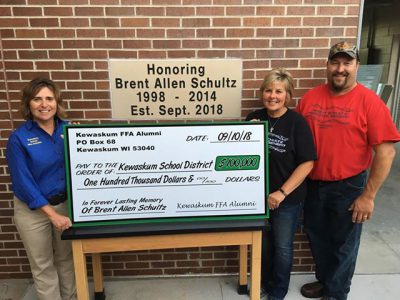 Sept. 12, 2018 – Kewaskum, WI – The Kewaskum FFA Alumni presented a check for $100,000 for a new greenhouse in memory of Brent Schultz, a student killed in an auto accident 4 years ago.
The check was presented to the Kewaskum School District.
Brent A. Schultz
1998 – 2014 Obituary 
Schultz, Brent A.
Brent A. Schultz, 16, of St. Michaels, passed away on Wednesday, June 18, 2014, with his best friend, Travis Trapp, from injuries received in an automobile accident.
He was born on June 16, 1998, in Plymouth, the son of Rod Schultz and Lynn Thull (Schmidt). Brent attended St. Lucas Lutheran School in Kewaskum and Waucousta Lutheran School. He just completed his sophomore year at Kewaskum High School.
Brent served as an officer of the Kewaskum FFA and was a member of the New Fane Kettle Riders Snowmobile Club, Sundown Coon Hunters and Trinity Lutheran Church in Dundee. He was an avid hunter and fisherman and will fondly be remembered for his big heart, his dimpled smile and the love he had for his truck and country music.
Those Brent leaves behind to cherish his memory include his parents, Lynn (Kevin) Thull of St. Michaels and Rod Schultz of Plymouth; his maternal grandparents, Elmer and Lois Schmidt of Beechwood; his paternal grandparents, Ken and Brenda Schultz of Cascade and paternal grandmother, Nancy "Tillie" Schultz of Plymouth; a special grandma, Karen (Glen) Stewart of Lomira; his great-grandfather, Alfred DeMarce of Cascade; his uncles, Jim (Dina, Brent's godmother) Schmidt of Beechwood and Ross (Rita) Schultz of Cascade; his aunts, Tammy Schultz of Cascade and Rhonda Schultz of Jackson; a special cousin, Austen Schmidt; his godfather, Tim (Sheryl) Fenske of Cascade; his step-grandmother, Marylin Thull of West Bend; two step-uncles, Craig (Lois) Thull of Campbellsport and Gary (Doreen) Thull of Howard, Pennsylvania; six step-aunts, Sue (Ralph) Deppiesse of Random Lake, Gale Thull (Don Guzan) of Spring Grove, Illinois, Janine Thull (Jeff Richter) of Menomonie, Geralyn Fromm of Port Washington, Vicky Thull of North Carolina and Adrianne (Ron) Theusch of Alden, Minnesota, other relatives and many friends.
Brent was preceded in death by his uncle, Rick Schmidt; his great-grandmother, Betty DeMarce; his step-grandfather, Norbert Thull and three step-uncles, Leon and Alan Thull and Ron Fromm.
Funeral services for Brent will be held at 4:00 p.m. on Monday at Trinity Lutheran Church in Dundee. Rev. Robert Oberg will officiate and burial will follow in Trinity Lutheran Church Cemetery in the town of Mitchell.
Memorials to Trinity Lutheran Church, WLGS, WCHA Coon Hunters for Children's Hospital of Wisconsin or the New Fane Kettle Riders Snowmobile Club are appreciated.
The Miller Funeral Home in Kewaskum has been entrusted with Brent's arrangements.