August 16, 2021 – West Bend, WI – One more finishing touch added to the upgrade at Carl M. Kuss Memorial Field in West Bend, WI as the dugouts were installed on Monday.
A crane was needed to lift the 10,000-pound dugouts into place.
The dugouts are the same size as the former and they are even with the playing field so there's no step up. There is a small closet on the east side of the dugout for storage.
According to Craig Larsen with the West Bend Baseball Association the next thing will be to seed the outfield and eventually put the lights in place.
As far as restoring the ivy to the outfield fencing, that won't happen. "There's an insect like the emerald ash borer that's preventing us from putting in the ivy," Larsen said.
The WBBA even consulted with the Chicago Cubs to investigate questions about returning ivy to Carl M. Kuss Field.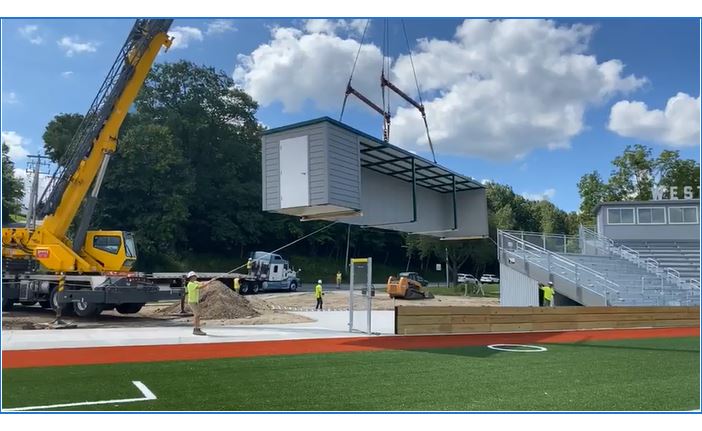 Click HEREto watch the initial installation process.
The West Bend Baseball Association is still raising money for the project. "This is a $2.1 million project and we still need to raise about $300,000," said Willie Mueller. "We're really thankful to the people who have donated so far but we need a bit more so we can finish it off and hit it outta the park."
Click HERE to make a donation or for traditional mail by USPS:
West Bend Baseball Association
PO Box 575
West Bend, WI 53095