Slinger, WI – Jean Dukelow (nee Johnston), known to most as Jeani, entered her eternal rest on Friday, November 25 at age 70 after years of health complications culminating in a brief illness. She died peacefully with family by her side.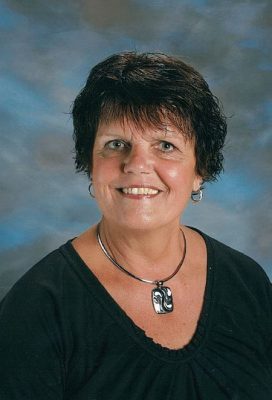 Jeani was born in Camp Douglas, WI, the third and youngest child of Robert and Lovey (nee Buchs) Johnston, in 1952. The family moved to Slinger when Jeani was 6, and she happily spent her life and raised her family there.
She graduated from Slinger High School in 1970, and later met John Dukelow of Neosho, whom she married on September 17, 1977. The couple welcomed twins on April 19, 1980, Joshua and Jessica. Her twins were the light of her life.
She is preceded in death by her parents, aunts Ellen (Roy) Bushy and Arlene (Robert) Wedell, uncle Roy Buchs, and cousin David (Lynn) Dukes.
She is survived by her husband and children, as well as her sister Roberta (Thomas) Suehr, brother Scott (Bev) Johnston, her "second son" Glen (Kari) Beder, nieces, nephews and countless friends.
Throughout her life, Jeani made friends easily, including during her years working in the school district, as hostess at Barth's Linden Inn, in the ticket office at Little Switzerland, and on the showroom floor at Taylor-Made Floors. She volunteered at St. Peter's Church, chaperoned school field trips, and cheered for the Slinger Owls. But it was her work as a teacher's aide for students with exceptional educational needs that brought so much happiness and purpose to her life.
She started working in Slinger School District in 1990, first as a substitute then as an aide in the early childhood program. Later she served as a special education aide at Slinger Middle School. She had a unique talent for reaching youth who struggled, showing them an unconditional love for which she will always be remembered.
For more than 25 years, Jeani and John spent their summers with their extended camping family, enjoying fun and fellowship in the outdoors across southern and central Wisconsin. Whether she was decorating the camper for holidays, sharing meals with the group or singing around the campfire, Jeani loved making memories with her friends.
After retiring in 2018, Jeani faced numerous health complications, mobility challenges and cognitive issues. The risks created by the coronavirus pandemic caused further isolation. Her final months were filled with appointments and procedures and through it all she was lovingly cared for by her husband. She had been receiving treatment for an autoimmune disorder (myelodysplastic syndrome) and after numerous infections she eventually succumbed to respiratory failure. The family wants to thank the incredible staff at St. Luke's ICU for their support and care during Jeani's final days.
The Mass of Christian Burial will take place at St. Peter Catholic Church, 200 E. Washington Street, Slinger, WI 53086 at 6 p.m. on Thursday, December 1, 2022, with The Very Reverend Father Rick Stoffel officiating. A visitation will precede the service from 3 p.m. -5:45 p.m. that afternoon at the church.
Private interment, St. Peter Catholic Cemetery, Slinger, WI.
In honor of Jeani's commitment to the power of education for everyone, donations in her name are appreciated to the Slinger High School Honours Inc Scholarship Fund, 209 Polk St, Slinger, WI 53086, in care of John Dukelow.
Those related to her by blood are only a small portion of those who mourn her passing. She brought hope and love to many young people who needed a caring adult in their life. Her carefree, goofy attitude made everyone feel at ease and accepted, and she always had a smile to share. Please remember her with a smile.